HT's Three Grown Men writing collective attended the Equifunk festival on August 19 and 20 at Eastern Pennsylvania's Camps Equinunk and Blue Ridge and have filed a pair of letters describing this one-of-a-kind event. Here's the first of the missives, penned by 3GM's Kevin Smallwood…
Dear Diary,
Leaving from Virginia six and a half rain-soaked hours earlier, I arrived at Camp Equinunk during sunset on Friday evening. Now, I've seen Friday the 13th a few times, so spending a weekend at a camp that is nestled on a big beautiful lake made this festival one of the more frighteningly beautiful music experiences I've ever had.
First of all, there was an army of golf carts that carried everyone's gear from the car to their respective sleeping arrangements.  Considering the mud, I don't think I've ever been happier to keep a pair of $5 tennis shoes clean. On the cart ride to our bunk we passed the main stage, an Olympic size pool with a 30-foot water slide, girls bunks…and more girls bunks.
As I walked into our cabin I was greeted with three bottles of liquor and a note on the floor that read "Welcome." I thought I might be special, but it turns out that anyone staying in a cabin was greeted with the same warmth any 20-something could appreciate.
READ ON for more of 3GM's Letter From Equifunk…
I'd never been to camp as a kid, but I knew my first moments in the bunk were absolutely crucial – so I ditched the free booze and immediately laid claim to the cleanest looking mattresses I could find. I then proceeded to the neighboring cabin and stole an extra mattress and an egg crate. As I assembled my sleeping throne, I realized that at any age, camp is war.
"Take him unaware by surprise attacks where he is unprepared…" – Sun Tzu, Art of War
The whole unpacking experience was surreal. Imagine grown ass men shotgunning beers in a kids' bunk while listening to Dire Straits and the Grateful Dead. And if that's not enough, imagine one of them putting 600 thread-count sheets on a dirty mattress and hiding cans of Pringles where the nine other bunk mates (also grownups) won't find them. That guy was me. And for the record, I chose those sheets because I knew they'd give me that incredible tingling feeling at 5AM  when I stumbled into bed.
Our camp counselors – Eric Welles, Brett Weinberg, Mallory Zalkin and Eric Kamen were the absolute best. They made sure everyone at camp had their all-inclusive booze, food and beer. When I finally met up with them, they surprised me by telling us they had arranged an interview with Karl Denson for me later that night. And so began the greatest two days of my gonzo-journalist career.
Before I heard a single note, I spent about a half hour talking with Chris Littlefield (trumpet) and John Staten (Drums) of Karl Denson's Tiny Universe.  Those guys know their movies, their music and had some hilarious insights about being in Karl's universe. When Adam Deitch (Pretty Lights, 50 Cent, Lettuce) rolled in to hang out and grab some Facebook time, I admittedly got a bit star struck. So I did what any self-respecting journalist would do: I shook his hand, hit the eject button and headed out the door towards the main stage.
FRIDAY NIGHT MUSIC
Once I made it to the main stage area, I caught the end of the Dogtown Allstars set. As I settled into the mix with my all-inclusive beers, I took a look around the venue.  The "E-Arena" is the perfect festival music shed. It boasts a state-of–the-art sound system, excellent acoustics, great sight lines and a rain or shine roof.  This venue immediately dispelled all the discomforts of those big, sweaty, festival tents we've crammed ourselves into over the years. This place had a nice flow about it to the point where you could wander almost anywhere on the grounds and still feel part of the music.
When you reach the point in your life where you finally get backstage, the shroud of mystery feels a bit more like a clumsy magic trick. Personally, I (unreasonably) expected everything I've ever heard about Mötley Crüe, Guns N' Roses and Led Zeppelin to be rolled into one big "midgets blowing bears" scene. Instead, I found mingling musicians eating hummus and baby carrots while cradling palms full of wine and spirits. While I was lucky enough to shake hands with Walter, Roberts and Deitch before they went on – it felt a bit like I was crashing the party. Don't get me wrong, everyone was cordial and I had some incredibly fulfilling conversations about music, but I finally understood and internalized the concept of "the enemy" [journalists] from Almost Famous. As a writer and lover of music, this may have been the most austere moment for me as one of the Three Grown Men. I may never clamour for the backstage again.
As Walter, Roberts and Deitch began their set, the all access area grew quiet. Everyone wanted to see what these alphas could put together. When you consider their musical contributions and accomplishments as individuals – putting these three men in one band is like putting Lebron James, Dwayne Wade and Chris Bosh on the Miami Heat…except these guys play exceptionally well together. The trio delivered big time. With moments of awe and near misses, it was clear that this set was the most organic of the weekend. These guys know each other's moves so well that if anyone dropped the ball, the other two could pick it up and slam it home without missing a beat.
And when Karl Denson showed up on stage with the trio? Well that about blew the roof off the E-Arena. With so many talented #1 guys on stage, it was astonishing to see them all making room for each other musically.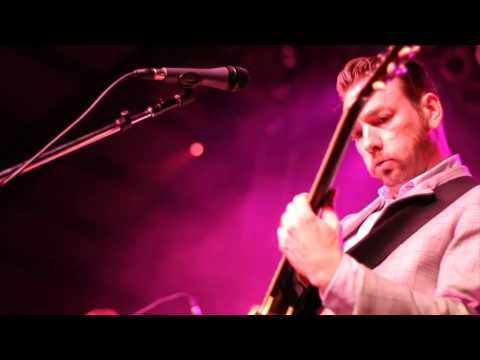 After the set, I made my way backstage for 3GM's interview with Karl, who we found pouring himself a well deserved "K-Dizzle" – which is: two parts vodka, mostly grape juice and a splash of pomegranate juice (or in this case, cranberry pomegranate). The details of this interview are forthcoming, but it should go on record that he loves Paul Newman's Salad Dressings.
During the  set, I put behind the business of taking notes and just enjoyed the music. KDTU is a well-oiled funk machine; they know how to steer a crowd and never let us off the hook for a moment. Whether it was their take on the Cold War Kids' Hang Me Out to Dry or their version of  Hey Jude, they relentlessly pulled the audience through every single peak and valley of their set. I felt like the only thing missing was James Brown himself.
KDTU sent us to our cabins at 2AM with far too much energy to go to sleep. So, our first night of Equifunk came to a close in a tee-pee around sunrise while we drank beers and discussed panty raids and music with Camp Equinunk's Hungarian lifeguards. I never expected that these international water sentinels would soon be supervising one of the greatest days of my life.
- Kevin Smallwood for 3GM
Check back tomorrow for 3GM's second letter from Equifunk.