You may be well familiar with the bands featured in this section, but Some Dude from Hits from the Blog wants to ensure there's No Jambandfan Left Behind…
Being a music blogger you're generally a few steps ahead of the curve when it comes to discovering new bands. While your friends are talking about how great The National is we're on to whatever unsigned band Stereogum or Daytrotter are pimping that week. Case in point the band that has been the darlings of music blogs for past eight to ten months: Vampire Weekend.
Odds are you haven't heard of them, or if you have you may have dismissed them because of their silly faux-Goth sounding name, much the way I did when I first heard of a band called Widespread Panic back in the mid '90s — raise your hand if you thought they were a metal band too.
The boys of VW had been on a meteoric rise, at least in New York since people got their hands on their self-produced Blue CD-R (not be confused with Weezer's Blue Album). The Village Voice and the New York Times both profiled them last year. They sold out the Music Hall of Williamsburg in the fall, and tonight and tomorrow they'll hit the Bowery Ballroom for two sold-out shows — all this based on a three song EP and single; their full-length album hits stores today. So read on to see what their "Upper West Side Soweto" sound is all about…
These recent Columbia University grads have the unfortunate distinction of being labeled "prep-rock" because of their Ivy League pedigree, and well because of the way they dress, which is a far cry from the indie-rock uniform of thrift store chic. Okay, fine, they also sing about things like Oxford commas and girl-watching on the quad, but you write what you know, right? With that aside I can't remember hearing a young band with such a mature sound. How many co-eds are really rocking out to world music these days? Here's their video for "A-Punk" and you'll see what I'm talking about…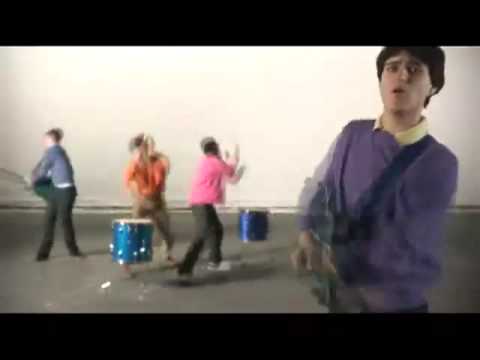 The song that really drew me in and had me playing it on constant repeat is the absolutely infectious Paul Simon Graceland-era inspired ditty "Cape Cod Kwasa Kwasa." Check out this unplugged version from MTV's Spanking New Sessions:
Seriously, you can't tell me you don't want to play that over and over and over and over again.
Be prepared to see the name Vampire Weekend pop up a lot come this festival season. They've already signed up for Langerado and Coachella, and I'd bet a hefty sum on a Bonnaroo appearance, too. Get ready for faux-goth prep.