Written by
HT Staff
on 06.12.2007 |
Ben Harper
,
Bonnaroo
,
Decemberists
,
Flaming Lips
,
Galactic
,
Gov't Mule
,
Keller Williams
,
Railroad Earth
,
RatDog
,
Richard Thompson
,
Rod y Gab
,
SCI
,
Spoon
,
STS9
,
Tea Leaf Green
,
The Roots
,
Tortoise
,
Ween
,
Wilco
,
Wolfmother
Keller Williams and Michael Franti will descend upon the same location this weekend, which can only mean one thing: There's a festival goin' down.
The Bonnaroo Music & Arts Festival kicks off four days of festival mayhem on Thursday, and we'd like to begin our coverage with a look at some of the bigger conflicts on the schedule. Tough decisions are inevitable at any festival, especially one like Bonnaroo that has music playing constantly on or in its 76 stages, tents, outhouses, vestibules, phone booths and kiosks. And considering this year's lineup is riddled with insane talent, the conflicts seem to pop up every hour.
Do you check out ?uestlove's afro-pick or Lily Allen's rack? Bob Weir's short shorts or Wolfmother's hype? Hula hoops at SCI or heady crystals at STS9? To help you make these calls, we've asked longtime Ace associate, TJ, who's headed down to Tennessee tomorrow night for a glimpse of the madness, to weigh in with what he believes to be the 11 most difficult time-slot decisions of the festival.
TJ will be covering this festival for us all weekend with live reports from the field, so make sure to check back every 10 to 12 minutes for the next few days…
Thursday
Rodrigo y Gabriela vs. Tea Leaf Green
TJ says: Despite the incredible job RyG could do on Graham Nash's Immigration Man, I see them getting their visas stamped but falling to the Green regardless.
Friday
Tortoise vs. The Richard Thompson Band
TJ says: Both eclectic, both underrated. The time slot dictates this one –- at 2 am I go Tortoise; but, this 2 pm slot is Richard Thompson all the way.
Kings of Leon vs. Gillian Welch
TJ says: I dig the Kings, but trendy hipster bands are a dime a dozen at Bonnaroo this year. There's only one Gillian Welch and one David Rawlings on the lineup.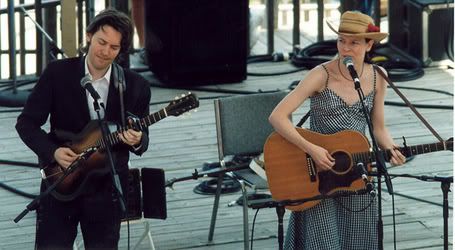 The Roots vs. The Black Keys
TJ says: I'd like to say I was representin' OH and pick the boys from Akron , but Ohio doesn't really claim Akron anyway. The Roots will allow you to get yo funk on like few bands at the festival this year, which is nice. Hell, this slot's so packed I may call an audible at the line and pull a split-squad session with Lily Allen and Manu Chao.
SCI vs. STS9
TJ says: Thank God for SuperJam. Seriously.
Read on for TJ's biggest conflicts (and winners) on Saturday and Sunday…
Saturday
Old Crow Medicine Show vs. Railroad Earth
TJ says: OCMS brings bluegrass without the sunny disposition offered by most of the acts on the newgrass/jamgrass circuit. In a fight, Old Crow beats YMSB senseless. They have cred, they get mean and they take down nice-guys RRE in a third round TKO.
Ween vs. Franz Ferdinand vs. WMDs vs. Ben Harper vs. Spoon
TJ says: In this "something for everybody" time slot, Ween rises above as the most interesting act – arguably at the entire festival. And they have the most revealing bio on the Bonnaroo site, which counts for something.
Flaming Lips vs. Gov't Mule vs. Galactic
TJ says: The Flaming Lips is one of those bands that I've always resisted because everybody seems to really want me to like them. Mule would have a tough time following up the Frampton sit-in I got when I saw them last year in Cincy. I haven't seen Galactic in almost seven years, and Stanton Moore is a badass. Galactic wins.
[ed. note: By that logic, you can see the Stanton Moore Trio on Thursday night and catch the Flaming Lips in this slot, like a normal person]
Sunday
John Butler Trio vs. Mavis Staples
TJ says: I saw JBT open for Trey a couple of years ago, and they were pretty cool. But the only thing that could possibly get me more excited to see Mavis would be if I found out that Roebuck Staples was coming back from the dead for a one-night only appearance. And I think we all know that that's about as likely as my missing Mavis on Sunday.
RatDog vs. Wolfmother vs. T-Bone Burnett
TJ says: This may be my toughest call of the weekend, but I feel oddly compelled to support Bob Weir (like Bobby needs my support). This is the first time that Bonnaroo hasn't featured Trey Anastasio or a Phil Lesh band (or both) as a headlining act, which is significant on a number of levels. I feel like going to see RatDog is a vote for keeping the jam element alive at the festival. Let's not forget the fanbase from which this whole thing sprang. I want less eyeliner and more patchouli stink on my Bonnaroo bands.
The Decemberists vs. Wilco
TJ says: I don't know a lot about The Decemberists, but as an avid poster collector I know that this poster that Emek did for them is super cool. At the end of the day, though, Tweedy punches these guys in the mouth like they're a stage jumper. With a new album on the shelves, Wilco brings their A-game in what I predict will be one of the most talked-about performances of the weekend.
What do you think? See any big conflicts for you that TJ didn't identify? Disagree with one, some or all of his calls? Sound off below…