After the five day marathon of music that is CMJ, it's easy to walk away wondering what the hell to make of it. The thing hosts about 1,200 bands from literally all over the globe across god knows how many venues, and the showcases that feature the bands anybody has actually heard of generally fill up to capacity long before those artists perform.
Thus, it's better to just roll with it. There's no point in trying too hard to make it to all the buzzy acts. Instead, the fun comes in just popping around neighboring venues, putting on your own personal critic's cap and evaluating in an American Idol-eque vibe all these bands who are virtually all capable of grabbing your attention – sometimes with their music, but more often with their thirsty stage acts and attempted emulations of what they think will make them the next big thing.
You get everything from up-and-coming divas sporting '80s garb in complement to their radio-ready pop hits (Spark), to nerd rockers cracking weird jokes about drinking from beakers (Crayon Fields), to hip hop megastars dropping by (Kanye, Chromeo and GZA at Brooklyn Bowl) unannounced. It's over-stimulation at its finest, but there's no shortage of quality. Hence, in our quest to pay attention to some of the lesser covered corners of the live music scene, we discovered some excellent new stuff. The following are just a few Hidden Track picks from the fest, including music, panels, and venues.
Jon Hopkins – The first of two of the supporting acts for the Four Tet at Webster Hall to make this list, Jon Hopkins was hands down the coolest show of my week. Hailing from London, Hopkins already has a huge following and has Brian Eno and Coldplay collabs on his CV. The classically  trained DJ/multi-instrumentalist has a knack for taking catchy minimalist, ethereal electronic music and slowly letting it carefully evolve to a fever pitch. His music calls to mind Eno himself and Phillip Glass at times, but he allows just enough catchiness in to attract a party crowd and make people want to dance. His video for Light Through the Veins is really something else.
READ ON for more winners from CMJ 2010…
Ume – She's little, ridiculously cute and rips on guitar. There's no denying that, but looking past the obvious, this band is for real. The Austin trio, taking its cues from lead guitarist Lauren Larson who is less axe shredder more samurai sword slicer, plays angular progressive pop that may well make them the first prog group ever to have female fans.
Santos Party House – Pre-CMJ, I'd never been to this place, but they are on the radar now. Playing host to some of the most intriguing lineups including bands you've actually heard of like School of Seven Bells, Dale Earnhardt Jr. Jr, and Das Racist, the relatively new sub-Canal Street multi-level space gained a lot of new patrons and should be a much more common tour stop for club-sized tour stops.
Francis & the Lights – If I had to bet on one CMJ act this year to make it big, I mean really big, Francis and the Lights would be that act. Francis has a stylish look and his dance moves are smooth as soft serve, but most importantly, they write pretty terrific music. At times they tackle serene ballads like their beautiful new single It'll Be Better, and other times it's danceable '80s funk. This is about as catchy as music can be, but it's entirely respectable, as they have a real knack for rhythmic interplay. Mark my words, this band will be everywhere in a matter of months. Check out this practice room jam before a show to get a sense of what these guys do.
Bowery Electric – Just down the road and across the street from Bowery Poetry Club, Bowery Electric kept a nonstop stream of music going all week long. This space doesn't draw much attention from the outside, but the layout is really cool for a small venue. There's an intimate dance floor space inches from the stage with a raised level behind in for an almost equally intimate bird's eye view of the stage back by the bar. The light fixtures add a very cozy element to this venue that makes for a much more unique showcase night or venue for upstart bands with some momentum. Of all the acts at Bowery Electric, I heard a lot of people say that the Jukebox the Ghost performance here was a highlight of the week.
The 360 Deal Does a 180 Panel – Of the one panel I attended, this was the best. Comprised of two indie label heads, a high profile artist manager, and an ex-Rolling Stone scribe who wrote a book on the 360 deal, this group did a marvelous job laying out the intricacies of  (and variations amongst) 360 record deals, or recording contracts whereby the artist gives up not only proceeds from album sales and syncs, but also rights to ticketing and merchandising revenues. They started with the history of the 360 deal, which actually came out of the indie labels, and then made global by a landmark Robbie Williams contract for 80 million pounds in 2002 that contained a number of innovative provisos for additional revenue streams and artistic creative control. One of the labels on the panel actually takes this to a new level, whereby when his label signs a band, they actually form an LLC together and become an actual business with dual ownership to the enterprise.
Gold Panda – The other opener of the Four Tet set show, Gold Panda, also put on a highlight set. Heavy on samples and marimba-like sounds, Gold Panda (aka, Derwin) kept a steady house groove running throughout, but he's not one to just sit there advertising his Mac. He's under the table tweaking his effects, playing melodies on his sampler, and pounding his head as is he's in his bedroom listening to his music alone. Interestingly, the Four Tet/Jon Hopkins/Gold Panda show brought out a really diverse crowd. It wasn't your average young Brooklynites in attendance, but rather a genuinely edgy crew made up of lots of foreigners, body art, and dreads.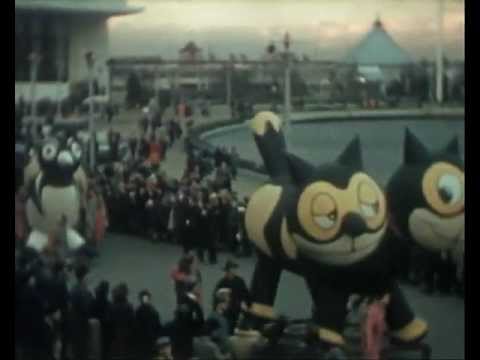 Flavorpill – The fine folks over at Flavorpill get the prize for the best coverage of the week. I found myself checking in on what they had to say regularly throughout the week, and I found a lot of cool suggestions thanks to them. Kudos guys. Take a look at their favorite finds, including this cool band called Dom, who sound like they belong on the ubiquitous No Alternative album circa 1993.