Last week, our guest Cover Wars author Andy Kahn mentioned that many people incorrectly think that Jeff Buckley penned Hallelujah when in fact it is the work of Leonard Cohen. Similarly this week, I'm sure there are a large number of people who think The Band wrote Don't Do It when in fact it was originally recorded by Marvin Gaye in 1964. Alright, I'll admit it – I was one of those people until somewhat recently. This song was written by the legendary songwriting team of Holland–Dozier–Holland, more on them later.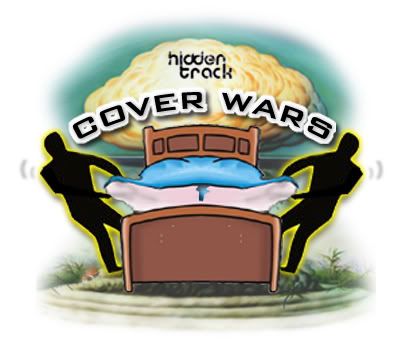 The Contestants:
The Band released this under the name of simply Don't Do It, not exactly sure why they dropped the "Baby Don't You", maybe one of our readers knows. This was first released on the live album Rock of Ages which was recorded during the last four days of 1971. Don't Do it was also on the live release The Last Waltz recorded in 1976. A studio version was released by way of a bonus track for the 2000 Deluxe Edition of Cahoots, an album by The Band from 1971. Source: Rock Of Ages
Audio clip: Adobe Flash Player (version 9 or above) is required to play this audio clip. Download the latest version here. You also need to have JavaScript enabled in your browser.
Happy Thanksgiving. The encore from The Last Waltz:
READ ON for the scoop on the rest of this week's contestants…
The Black Crowes essentially cover The Band's version and notate it as Don't Do It on their setlists. The song was first performed by Rich Robinson on his solo tour in 2004. The first performance by The Black Crowes came on March 15th of 2005, a show at the Higher Ground in South Burlington Vermont that also featured guitarist Trey Anastasio on an epic version of Yer Blues, which was also a first-time-played by The Crowes. Source: 12-5-2009
Audio clip: Adobe Flash Player (version 9 or above) is required to play this audio clip. Download the latest version here. You also need to have JavaScript enabled in your browser.
Video from July 2nd, 2005:
The Isley Brothers recorded Baby Don't You Do It just two years after the original was released by Marvin Gaye. The album, titled This Old Heart Of Mine was produced by original songwriters Holland-Dozier-Holland, and they also have the songwriting credits for the majority of the album. Oh yeah, and The Funk Brothers play on both the original and this cover.
Audio clip: Adobe Flash Player (version 9 or above) is required to play this audio clip. Download the latest version here. You also need to have JavaScript enabled in your browser.
We had Faces just a couple weeks ago in The Wicked Messenger Cover Wars and today we get to include a related entry as the Small Faces recorded a cover on their 1967 album titled From The Beginning, an album that was released by Decca as a "spoiler album" during a label dispute.
Audio clip: Adobe Flash Player (version 9 or above) is required to play this audio clip. Download the latest version here. You also need to have JavaScript enabled in your browser.
Also in 1967, a 17-year-old Stevie Wonder recorded this cover for an album to wrap around his hit single I Was Made to Love Her.
Audio clip: Adobe Flash Player (version 9 or above) is required to play this audio clip. Download the latest version here. You also need to have JavaScript enabled in your browser.
The Who first released a live version as a B-side for their single Join Together. A studio rendition was released on a reissue for Who's Next, but it wasn't until 2000′s Deluxe Edition that this 8+ minute rendition was available to the general public.
Audio clip: Adobe Flash Player (version 9 or above) is required to play this audio clip. Download the latest version here. You also need to have JavaScript enabled in your browser.
Checking in last week's Hallelujah edition, I always say that I'm happy when every rendition receives at least one vote. Well last week every cover received at least two votes and Jeff Buckley is the clear winner currently pulling down 48%.