This rock epic was originally released in 1975 on the Queen Album A Night At The Opera. According to allmusic.com, the album was the most expensive rock record ever made at the time. They also have this to say…
The first single from the record, "Bohemian Rhapsody," became Queen's signature song, and with its bombastic, mock-operatic structure punctuated by heavy metal riffing, it encapsulates their music. It also is the symbol for their musical excesses — the song took three weeks to record, and there were so many vocal overdubs on the record that it was possible see through the tape at certain points. To support "Bohemian Rhapsody," Queen shot one of the first conceptual music videos, and the gamble paid off as the single spent nine weeks at number one in the England, breaking the record for the longest run at number one.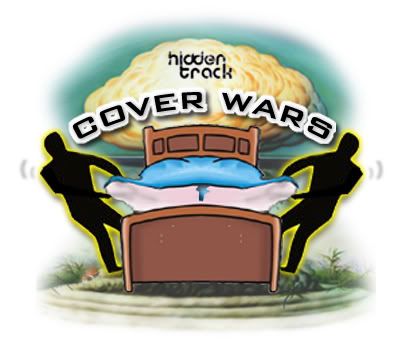 The Contestants:
California Guitar Trio: Leading off this week is our only instrumental rendition. Bohemian Rhapsody is a very popular cover and there were many other instrumental versions out there, but of the few I listened to – this one is the best. Source: Echoes
Audio clip: Adobe Flash Player (version 9 or above) is required to play this audio clip. Download the latest version here. You also need to have JavaScript enabled in your browser.
Some video of California Guitar Trio:

READ ON for the scoop on the rest of this week's contestants…
The Flaming Lips: This cover lends itself well to The Flaming Lip's over-the-top live tendencies. In addition to supplying the track for this Queen Tribute Album in 2005, it also appears as a bonus track on their 2006 release At War With The Mystics. Source: Killer Queen: A Tribute to Queen
Audio clip: Adobe Flash Player (version 9 or above) is required to play this audio clip. Download the latest version here. You also need to have JavaScript enabled in your browser.
Live Video from Vicar Street in Dublin Ireland:

The Muppets: So when I started writing this feature a couple of days ago, The Muppets version of Bohemian Rhapsody had very quickly already received over 10,000,000 views. And then this morning, I go to put the final touches on Cover Wars and I see that, "This video is no longer available due to a copyright claim by EMI Publishing Scandinavia AB." Really? We're taking down official Muppets videos now?
Anyway, this version was the inspiration for this week's Cover Wars, and as of now there are some "other" uploads of it on YouTube that haven't been taken down, yet. I'd say this is a developing story. It was the hottest video on the Internet for a week and now it's gone.
A good overall version, but Animal is clearly wasted as he can only utter the words "Mamma" and nothing else.
Phish: For New Year's Eve 1996, Phish welcomed the Boston Community Choir for this song in addition to a performance of Amazing Grace and Phish original Julius. Page McConnell's voice struggles a bit throughout this show, had this not been the case I think this cover would have a bit more re-listen value. Source: 12-31-1996
Audio clip: Adobe Flash Player (version 9 or above) is required to play this audio clip. Download the latest version here. You also need to have JavaScript enabled in your browser.
Pink: This DVD is brand new, released just last week of shows recorded in Sydney Australia on July 17th & 18th of this year. Source: Pink: Funhouse Tour – Live in Australia
Audio clip: Adobe Flash Player (version 9 or above) is required to play this audio clip. Download the latest version here. You also need to have JavaScript enabled in your browser.
Rolf Harris: Australian-born Rolf Harris first recorded this cover at age 66 in 1996. Harris is unique this week because his cover is the only one that doesn't also have some sort of presence on YouTube. Source: Bohemian Rhapsody
Audio clip: Adobe Flash Player (version 9 or above) is required to play this audio clip. Download the latest version here. You also need to have JavaScript enabled in your browser.
Weird Al Yankovic: Often times when a song ends up on a Weird Al album the lyrics get completely changed. When that is the case, normally we wouldn't include it in Cover Wars. This take, which is titled Bohemian Polka, does indeed keep all the original lyrics of the Queen original – so we're happy to welcome Weird Al to his Cover Wars debut. Source: Alapalooza
Audio clip: Adobe Flash Player (version 9 or above) is required to play this audio clip. Download the latest version here. You also need to have JavaScript enabled in your browser.
Checking in on the On Your Way Down Cover Wars from two weeks ago, Phish is slightly edging out Little Feat. I try to remain somewhat neutral on the winners, and I know we've got a lot of Phish fans reading the blog, but c'mon – this one belongs to Little Feat.