Last week's edition is still currently too close to call. If you haven't voted, you gotta help us declare a winner. I wish I could congratulate last weeks winner, that's what I like to do at the beginning, but I can't – it's just too close!
One of the things I love about writing this column, besides the chicks, is the cool things you learn along the way of researching an edition. For example, I was not aware that the guitar solo was recorded with a Telecaster going through a Leslie Speaker. You can learn all sorts of cool shit from this song's wikipedia page. I'm not going to copy and paste all of them but it's got some good stuff: Recording techniques, quotes from band members about it, etc.
Though there are is no shortage of cover versions, I'm going to do a few less than the past few weeks. Here's my six favorite versions of Good Times, Bad Times:
If Imeem is only giving you 30 second clips of the songs, you must register or login to Imeem to hear the full tracks – it's easy and free.
Read on for the tale of the tape on this week's competitors…
Bustle In Your Hedgerow: This is just three minutes of pure instrumental energy-rock. If you didn't know Bustle is Marco Benevento & Joe Russo from The Duo, Scott Metzger of Rana and Dave Dreiwitz of Ween. The whole show on archive.
Give Us The Money Lebowski: I'll use this as a shameless plug four our boy Nick's upcoming festival even though he doesn't know anything about punk rock. Nick tells me they never taught the keyboardist this song (Hey, it's got no keyboard part, right?) and that explains some of the loose banter you'll hear on the recording…err, half explains it. The whole show on archive.
Jiggle: I grew up listening to these guys and always thought they could blow the doors off this tune. The whole show on archive.
Phish – The classic. Well not the original, but you know…I asked ScottyB if he could tell me a particularly intense version and he came through with the 12-30-1996 recording. Be back in like 15 minutes – thank you. The whole show on archive.
Video of 2-25-1993 Miami: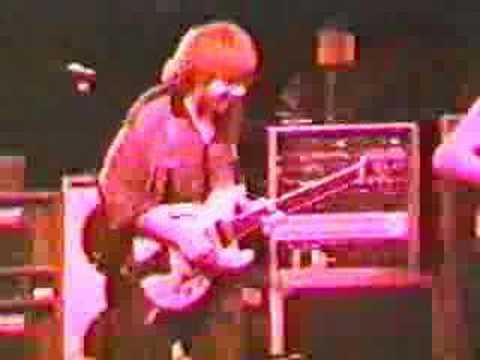 Robert Walter's 20th Congress: Instrumental. Robert is really a master of the drawbars and speed changes and all the things that make a real B3 player. Nice instrumental take while being nothing like the other instrumental version in this Cover Wars. The whole show on archive.
Tenacious D – This is pretty awesome. The whole show on archive.
Happy April Fool's Day, now go place your vote. Oh, and vote on last week's too, we need to declare a winner!