Has it really only been a week? There were no real surprises last Tuesday, and by this I mean that Pearl Jam has emerged victorious from last week's edition where we looked at eight covers of Rockin' In The Free World.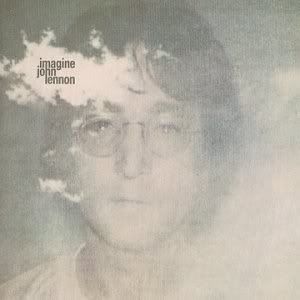 The general election may be over, but Cover Wars goes on. This week we will be featuring one of my favorite John Lennon solo songs: Jealous Guy. There are many covers of this tune out there, so this week's contestants are by no means the only artists to have covered the song, but rather a sampling. Lennon originally wrote the melody to Jealous Guy on a trip to India in 1968 when the song was called Child Of Nature. The song would get new lyrics three years later when it was released on Lennon's second studio album Imagine. You can read more about that here.
Be sure to register/login (opens in new window) to imeem before starting the playlist below.
RSS readers, click here to launch the playlist
READ ON for the tale of the tape on this week's competitors…
Cornmeal: Kicking it off this week we've got a rendition from this Chicago-based bluegrass band. I am unsure if this song has stayed in their repertoire as this is the only version available on the Live Music Archive. Source: 12-13-2002
Deftones: I was ready to skip over this performance after hearing the first minute and right as I was about to close the window, they picked it up a notch. I'm glad I didn't dismiss it, because it's certainly one of the more unique covers of the song out there. Source: Instant Karma: The The Amnesty International Campaign to Save Darfur
Donny Hathaway: Many of the artists listed this week have borrowed a lot from the Donny Hathaway performance – most notably the intro keyboard line. At least, the Hathaway version is where I think it originally comes from. A simply fantastic performance that was recorded roughly one year after the original. Source: Donny Hathaway Live
Elliott Smith: Elliott Smith was not shy about his admiration of all things Beatles. This influence is reflected in both his original compositions as well as his large catalog of covers that included Beatles and post-Beatles solo-work material. Fans of Smith should check out this show and it's incredible sound quality. Source: 4-17-1998
Video footage from a couple months before the version included in the playlist:
Faces: A studio outtake with some hilarious British musicians banter. I like that they give Rod Stewart tons of shit for not playing an instrument. Source: Five Guys Walk Into A Bar…
Jimmy Scott: The story of Jimmy Scott is just as amazing as this performance. Scott, still going strong at 83, will appear with Pink Martini this New Year's Eve. Source: Holding Back The Years
Lou Reed: Simply put, this is the legends covering the legends. Reed puts his own spin on the vocal delivery of this one. Source: Come Together: A Night for John Lennon's Words and Music
Video:
PBS with Page McConnell: This was a cover in Page's Vida Blue days and was also dusted off for the recent New York City performance from the PBS with Page tour. Page sneaks in both a piano and organ solo between verses. Thanks to Bret for letting use the official SBD track for Cover Wars. Source: 9-26-2008
Roxy Music: Roxy Music was inspired to record this track shortly after John Lennon's assassination. Front-man Bryan Ferry had previously recorded the song as well. Source: Non-Album single, available on The Best Of Roxy Music
Music Video:
Ryan Montbleau Band: And closing out this week is RMB, who never disappoints with their interpretations of the classics. Check out this show for a cover of They Love Each Other as well as a hilarious rendition of Car Wash. Source: 12-30-2006
That's all we've got this week, a few Lennon videos before we go:
The recording of: