Life On Mars? was originally released on David Bowie's 1971 album Hunky Dory. Life On Mars? would be released as a single in the U.S. two years later with The Man Who Sold The World as its B-Side. Talk about a killer combo.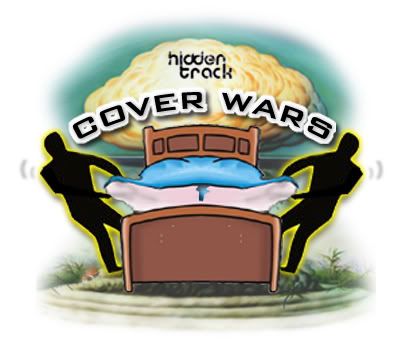 The Contestants:
The Bad Plus: In addition to this adventurous take on a Bowie classic, this Bad Plus album from 2007 also features interpretations of Everybody Wants To Rule The World (Tears For Fears) and Tom Sawyer (Rush). Highly recommended listening. Source: Prog
Audio clip: Adobe Flash Player (version 9 or above) is required to play this audio clip. Download the latest version here. You also need to have JavaScript enabled in your browser.
READ ON for the scoop on the rest of this week's contestants…
Barbara Streisand: Fans of both Cover Wars and Barbara Streisand can rejoice today at the long-awaited inclusion of one of her tracks. Source: Butterfly
Audio clip: Adobe Flash Player (version 9 or above) is required to play this audio clip. Download the latest version here. You also need to have JavaScript enabled in your browser.
Crudo (Mike Patton & Dan The Automator): If I didn't include Patton's interesting take on this, my buddy Pipe would surely have emailed me with the quickness telling me I had missed the best cover. This first video is from the Sasquatch Festival in 2008…
This performance is from a little earlier in the year and Patton is joined by Stian Carstensen. It's loose.
The Flaming Lips: This live track – recorded in 1992 – appears on the single for the song This Here Giraffe, which comes off of their 1995 album Clouds Taste Metallic. Source: This Here Giraffe
Audio clip: Adobe Flash Player (version 9 or above) is required to play this audio clip. Download the latest version here. You also need to have JavaScript enabled in your browser.
Phish: The timing of Phish's performances of this song with actual Mars-related-events is well documented. As many of you may know, Hunky Dory is still on the list of possible albums Phish will cover at Festival 8. Source: 12-4-1996 (SBD)
Audio clip: Adobe Flash Player (version 9 or above) is required to play this audio clip. Download the latest version here. You also need to have JavaScript enabled in your browser.
Somewhat shaky video, but it's from 1996:
Rick Wakeman: If this beautiful instrumental rendition by YES keyboardist Rick Wakeman leaves you thinking that this guy has a really good command over this song, it's probably because he is the one who played the piano on the original. Source: Rick Wakeman: The Other Side of Rick Wakeman
Seu Jorge: Seu Jorge recorded five Bowie tunes, sung in Portuguese, for the 2005 film The Life Aquatic with Steve Zissou. Additionally, an album with even more Bowie material was released under Jorge's name in that same year. He does really gorgeous stuff with his interpretations. While he keeps the melodies and structure intact, he does change a lot of the lyrics. Check out this site to review some of the translations back into English. Source: The Life Aquatic Exclusive Studio Sessions Featuring Seu Jorge
Audio clip: Adobe Flash Player (version 9 or above) is required to play this audio clip. Download the latest version here. You also need to have JavaScript enabled in your browser.
The Ukulele Orchestra of Great Britain: This brilliant rendition is mostly Life On Mars? (first verse and chorus) and then for the second verse/chorus, members of the outfit start singing all sorts of other songs over the top of it. Some work better than others, but overall it's a pretty badass piece.
Checking in on last week's Baba O'Riley Cover Wars, Pearl Jam has emerged victorious with Umphrey's McGee and The Grateful Dead coming in tied at second.