[Originally Published: October 19, 2010]
Hey everybody, DaveO here – over the next few weeks I am turning Cover Wars over to some of the other Hidden Track contributors to change things up a bit. Please welcome, Andy Kahn.
Lefty Frizzell first recorded and released this haunting ballad in 1959. Written by Danny Dill and Marijohn Wilkin, it's a first person, from the grave account of a man wrongly sentenced to death for a murder he didn't commit. However, he's unable to provide an alibi because that would reveal at the time in question he was sleeping with his best friend's wife. The wife often goes to the narrator's gravesite wearing the long black veil and mourning the secret that led to his execution. Since Frizzell's original release plenty of other artists have tackled this heart-string-pulling ballad. A good lot of them are up for consideration below, but let me know in the comments if I missed your fav.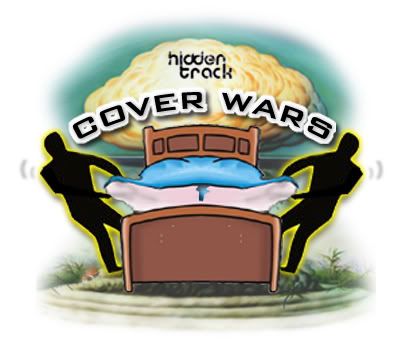 The Contestants:
Dave Matthews: Those not steeped in the earlier folk stylings of the song might be most familiar with one of Dave Matthews' performances. A staple of the Dave Matthews Band repertoire for years now, having first appeared on the 1999 live album Listener Supported, Matthews has also played duets with Warren Haynes, Tim Reynolds and as part of a tribute to Johnny Cash with Emmylou Harris.
Audio clip: Adobe Flash Player (version 9 or above) is required to play this audio clip. Download the latest version here. You also need to have JavaScript enabled in your browser.
READ ON for the scoop on the rest of this week's contestants…
Pizza Tapes: There are so many gems packed into The Pizza Tapes, the one-off recording session held by Jerry Garcia, David Grisman and Tony Rice, but this rendition of Long Black Veil might just be the best of the bunch. The gorgeous and intertwining picking from all three axemen coupled with Garcia's delicate and gut-wrenchingly honest vocals make this my go-to version of the tune.
Audio clip: Adobe Flash Player (version 9 or above) is required to play this audio clip. Download the latest version here. You also need to have JavaScript enabled in your browser.
The Band: Otherwise full of originals, this was the one non-Dylan written or co-written song on the now legendary debut Music From Big Pink. Rick Danko handles the lead vocals with Levon Helm supplying the down-home harmonies. Danko continued to perform the song solo even after The Bands last dance, including a version on his 1997 In Concert release.
Audio clip: Adobe Flash Player (version 9 or above) is required to play this audio clip. Download the latest version here. You also need to have JavaScript enabled in your browser.
Johnny Cash: Cash considered this one of the 100 essential American songs (more on that below). Cash's version comes out in the typical deliberate and passionate delivery he was known for. The song became a staple of his live performances often appearing on many of his live albums including his perhaps most famous At Folsom Prison.
Audio clip: Adobe Flash Player (version 9 or above) is required to play this audio clip. Download the latest version here. You also need to have JavaScript enabled in your browser.
Rosanne Cash (feat. Jeff Tweedy): Daughter Rosanne upon turning 18 years old received a list of her father's 100 essential American songs. She kept that list and used it as a source of songs for her 2009 release The List that includes this version featuring Wilco's Jeff Tweedy on background vocals.
Audio clip: Adobe Flash Player (version 9 or above) is required to play this audio clip. Download the latest version here. You also need to have JavaScript enabled in your browser.
Mick Jagger and the Chieftains: This is not the typical pairing one thinks of when looking back at great partnerships in the history of Rock n Roll. But the Irish folksong tone the tune takes along with Jagger's highly recognizable and barebones approach to the vocals make this one of the more unique takes in today's lineup. This track comes from The Chieftains' 1995 album The Long Black Veil that featured other rock artists on traditional folk songs.
Audio clip: Adobe Flash Player (version 9 or above) is required to play this audio clip. Download the latest version here. You also need to have JavaScript enabled in your browser.
Bill Monroe: Monroe and co. bring that high lonesome sound that probably most closely mirrors Frizzell's original country western twang. Monroe first released his version on the 1970 album Kentucky Bluegrass. Both the tempo and vocal delivery are slow and resolute with Monroe's signature sound capturing the essence of the ballad.
Audio clip: Adobe Flash Player (version 9 or above) is required to play this audio clip. Download the latest version here. You also need to have JavaScript enabled in your browser.
Nick Cave and the Bad Seeds: Appearing on the 1986 cover album Kicking Against The Pricks Cave's take is more gunslinging western theme song than the typical folk style employed by others. He kicks it off with a highly harmonized rendition of the chorus before heading into the verses. This one definitely stands out from the older folk arrangements.
Audio clip: Adobe Flash Player (version 9 or above) is required to play this audio clip. Download the latest version here. You also need to have JavaScript enabled in your browser.
David Gray: Another artist to take a liking to playing this song live, surprisingly the sad bastard's take on it was one of the most upbeat to make the list. This version comes from his A Thousand Miles Behind album comprised of covers recorded between 2001 and 2007.
Audio clip: Adobe Flash Player (version 9 or above) is required to play this audio clip. Download the latest version here. You also need to have JavaScript enabled in your browser.
Barry White: If anyone was going to bring a little funk a lot of soul to this folksong it would be Barry White. Mixing thumping bass line, searing electric guitars and beautiful horn riffs over an acoustic guitar base this is the only instrumental track on the list.
Audio clip: Adobe Flash Player (version 9 or above) is required to play this audio clip. Download the latest version here. You also need to have JavaScript enabled in your browser.
Checking in on last week's The Carpet Crawlers Cover Wars, John Goodsall has emerged victorious.