Written by
DaveO
on 08.27.2008 |
Brothers Past
,
Cover Wars
,
Editor's Choice
,
Flaming Lips
,
Gov't Mule
,
moe.
,
Particle
,
PGroove
,
Tenacious D
,
The Bad Plus
,
The Duo
,
Trey
,
Umphrey's McGee
,
Vampire Weekend
Checking on last week's edition, we had two popular choices for covers of Bell Bottom Blues. Once the votes were counted, Trey Anastasio had a slight edge over Umphrey's McGee – so Trey takes home his first Cover Wars trophy sans Phish.
This week we're taking on one of the most ambitious Cover Wars to date. We've compiled the most entries we've ever had as we take a look at covers of Radiohead's catalog. Musicians in the 21st century seem to be more reluctant to cover other modern artists than bands were say 30-50 years ago. However, a few artists can be influential enough that bands just can't help themselves. We saw a little bit of this in the Nirvana Cover Wars as jambands, jazz acts and pop artists paid tribute to the grunge era. We have a similar cross-section of artists this week as well, the contemporary jazz guys love Radiohead.
As always, be sure to register/login to IMEEM so the playlist below loads full-length tracks.
Be sure to READ ON after the jump as some of the best covers this week are embedded via video clips and are not included in the playlist above.
The Bad Plus: Leading off is one of our cross-overs from the Nirvana Cover Wars I mentioned above. The Bad Plus always throw a good rock cover on their albums to keep things interesting. This track on the other hand comes off of a compilation full of Radiohead tunes. To try and keep things relatively under control, I selected only one track off this disc (and I did this a few other compilations below, as you'll see). Source: Exit Music: Songs with Radio Heads
Benevento Russo Duo: It's pretty obvious that Marco and Joe are huge Radiohead fans. We've got four tracks in total, two of which are with a guest vocalist from Jamcruise '05. Sources: 5-20-2004, 1-8-2005, 8-31-2005
Brad Mehldau: This has happened before, where alphabetical order has also grouped artists by genre. We've got a lot of instrumental renditions at the top this week, and Brad Mehldau's interpretations are in a word: stunning. Sources: The Art Of The Trio Vol. 3, Day Is Done, Largo
Bonus Video – Exit Music (For A Film):
Brock Butler of Perpetual Groove: Short and sweet, for this instrumental version of The National Anthem Brock is joined by drummer Albert Suttle.
Source: 2-8-2006
Brothers Past: And finally our first version with vocals! There's not a whole lot about Brothers Past or Tom Hamilton that is mainstream, and his selections of tunes to cover in this edition illustrate that. One of the more obscure tunes that shows up this week, I Might Be Wrong has been a staple in the BP repertoire for a number of years. Source: 7-6-2005
Easy Star All-Stars: Another track that comes off a disc filled with Radiohead Covers. The Easy Star All-Stars also have an album dedicated to Pink Floyd, Dub Side Of The Moon. Since I can't include them all, I've selected Let Down which features Toots & The Maytals. Source: Radiodread
The Flaming Lips: The Flaming Lips and Radiohead both got their early starts as a band in the mid-1980s. The Lips included a cover of Knives Out on the Fight Test EP that was released in conjunction with their 2002 album Yoshimi Battles the Pink Robots. Source: Fight Test (EP)
Gnarls Barkley: A cover of a tune from Radiohead's most recent album? Already? Awesome. My opinion is that this is one of the best covers of Radiohead out there, and it gets bonus points for being officially released by the artist (at least it appears to be the official Gnarls Barkley YouTube channel).
Gov't Mule: Gov't Mule has got two tunes here, one of which is the most radio-friendly Radiohead song (Creep) and another one (Lucky) which is a bit more off the beaten-path. I just love how Warren belts out the high part in Creep whereas Thom Yorke will always sing this in falsetto. Sources: 7-11-2008, 7-31-2008
Bonus Video – Creep, 10/30/2006 from The Barrymore in Madison, WI: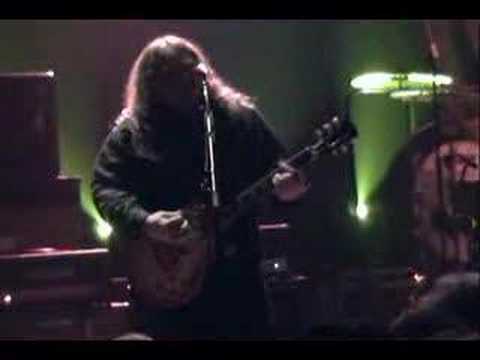 Jamie Cullum: More pop artists covering Radiohead, here we've got Cullum tackling the ballad High and Dry. Source: Twentysomething
Bonus Video – "Live at Vitoria":
There's also a music video of this, officially uploaded by Warner Brothers, but they have disabled the embedding of the video, forcing you to navigate to YouTube to watch it (stupid).
Mark Ronson Now THIS is how you do viral video. Custom widgets that can be spread around the Internet like wildfire – two thumbs up. It also helps that the music is seriously bad-ass. The tune you're looking for his the first one on the list: Just.
moe.: I'm a sucker for the crowd reaction when a cover is played for the first time, so I've included moe.'s first performance of Paranoid Android. The version of Karma Police comes from the post-Phish show in Las Vegas in 2003 and includes a quick outro of Fitter Happier, another Radiohead tune. Sources: 2-16-2003, 1-19-2006
Bonus Video – Karma Police 7/11/2008, Cape Cod:
Particle: This instrumental rendition of The National Anthem comes off an official free SBD release from Particle. Source: 11-16-2004
Tenacious D: Deep into this list, I thought I'd inject a little humor as Tenacious D attaches a bit of Airbag to their quirky tune, They Fucked Our Asses. Source: 10-21-2001
Tom Hamilton of Brothers Past: Hamilton delivers the only solo performance of this edition with a quick rendition of There There off of the 2003 release Hail To The Thief. Source: 2-20-2003
Trey Anastasio: Some friends of mine urged me not to include this as they felt it was not a flattering representation of Trey's musical state at the time of the performance, but I have chosen to include it because of its historical significance. My friend Jon went as far to say, "If I was fighting a war, that is not a soldier I would send to battle." In his first tour since the break-up of Phish, Trey selected a lot of interesting covers and none were more noteworthy than this one-time performance of Knives Out. For what it's worth, the official lyric is, "He's not coming back" but Trey was sure to sing "It's not coming back" every time. What a jerk ;) Source: Unavailable (Thanks to Skip for sending me the file because I can't find this on the Internet anywhere).
Umphrey's McGee: UM definitely wins most "out there" selection for a Radiohead cover, selecting the instrumental Meeting In The Aisle off of the Airbag/How Am I Driving? EP. Source: Podcast #64 (2-27-2008)
Vampire Weekend: The folks over at one of my favorite music blogs threw together a song-by-song compilation to celebrate the 10th anniversary of the release of OK Computer. This track from Vampire Weekend is my favorite of the bunch. Source: Stereogum presents…OK X: A Tribute to OK Computer
And that's all you get. No videos of the original artist this week, I think this piece is long enough as it is. Thanks for reading.