No big surprise, after we looked at six covers of And It Stoned Me last week – the Jerry Garcia band version was the clear winner. Jerry's soulful late-JGB style vocals are pretty damn hard to compete with.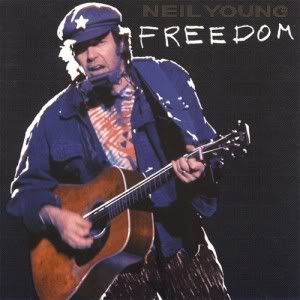 For Election Day, I figured we'd throw together some covers of Neil Young's Rockin' In The Free World. Much like Bruce Springsteen's Born In The USA, the song's seemingly patriotic chorus is contrasted with negative imagery and politically themed verses.
As always, be sure to register/login to IMEEM before starting the playlist below.
RSS Readers: Click Here to launch the playlist
READ ON after the jump for a collection of contestants that are included via YouTube videos and not on the IMEEM playlist…
The Breakfast: This, and many (maybe all, I dunno) performances of the tune by The Breakfast feature instrument swapping by the band. Source: 4-22-2007
Drive By Truckers: DBT makes their long overdue Cover Wars debut. This performance is from only three days ago – what a country! Source: 11-1-2008
G3: From the Live Colorado DVD. This lineup of G3 features Joe Satriani, Steve Vai and Yngwie Malmsteen.
Maroon 5: The guys in Maroon 5 reference the Pearl Jam cover below when introducing their own performance at "Live 2005″
Outformation: Outformation returns for its first CW appearance since the Not Fade Away edition. Source: 4-28-2006
Pearl Jam: A 28 year-old Eddie Vedder delivers this high energy performance at Pink Pop 1992.
Phil Lesh & Friends: From the Gathering Of The Vibes 2002, Warren Haynes belts out this in the encore before they launch into the Grateful Dead's Liberty to close the night. Source: 7-5-2002
Sean Kelly: Check out the rest of this show for two other Neil covers as well: Cowgirl In The Sand and Don't Let It Bring You Down. Source: 2-14-2003
Bonus videos:
Official music video (thank you mtvmusic.com)
Neil Young and Pearl Jam 1993:
Pearl Jam & U2: