This week we've got arguably the first love song that The Talking Heads ever recorded. This track was originally released on the 1983 album Speaking In Tongues. Click here to view the video of this song from Stop Making Sense.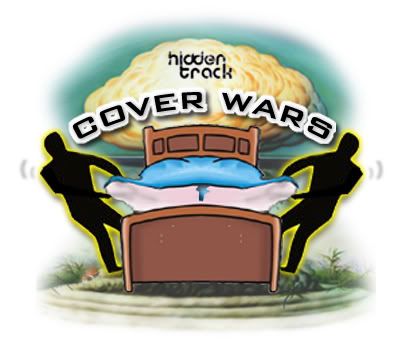 Did you know that the studio recording of this tune had members of the band not playing their primary instruments? It was: Jerry Harrison (bass), Tina Weymouth (guitar), and David Byrne (keyboards).
The Contestants:
The Arcade Fire: Arcade Fire have the advantage of being the only band this week that has performed this song with David Byrne. That performance from New York City, was released on vinyl as the B-Side to the Neighborhood #3 (Power Out) single promoting the band's 2004 album Funeral. Source: Neighborhood #3 Vinyl Single
Audio clip: Adobe Flash Player (version 9 or above) is required to play this audio clip. Download the latest version here. You also need to have JavaScript enabled in your browser.
And some video of the band performing the song by themselves:
READ ON for the rest of this week's Cover Wars contestants…
MGMT: In the commentary for the movie Stop Making Sense, it is made clear that the reference to "Naive Melody" in the song's title is about the bass and guitar tracks on the song and how they never change notes throughout the entire tune. This is made abundantly clear in this VERY early performance by MGMT as they successfully cover the song in the manner in which they do.
Miles Fisher: Well this is fucking crazy. We've got actor Miles Fisher performing his own cover of the song…combined with his own rendition of scenes from American Psycho. If you like the track, you can download his EP over at his website.
Perpetual Groove: Put simply, PGroove really kills this song. The good way. Lead vocalist Brock Butler could very well have the best voice for this cover of all the version's I've heard. Source: 2-10-2007
Audio clip: Adobe Flash Player (version 9 or above) is required to play this audio clip. Download the latest version here. You also need to have JavaScript enabled in your browser.
Ryan Montbleau Band: Another really great rendition, this version having our second instance where the keyboard part is played on a string instrument, (see The Arcade Fire) in this case Laurence Scudder's viola. Source: 12-31-2005
Audio clip: Adobe Flash Player (version 9 or above) is required to play this audio clip. Download the latest version here. You also need to have JavaScript enabled in your browser.
Shawn Colvin: Making things interesting this week, we've got a great female vocalist performance. This was originally released on Colvin's third studio record, an album of all covers. Source: Cover Girl
Audio clip: Adobe Flash Player (version 9 or above) is required to play this audio clip. Download the latest version here. You also need to have JavaScript enabled in your browser.
Live performance of Shawn Colvin with Strings Attached:
String Cheese Incident: And finally we've got SCI. This was definitely a wise cover for them as it fits their instrumentation well. They also must like it as it was one of the covers selected to appear at their first major gig in years when they performed earlier this month at the Rothbury Festival. Source: 11-17-2000
Audio clip: Adobe Flash Player (version 9 or above) is required to play this audio clip. Download the latest version here. You also need to have JavaScript enabled in your browser.
Checking on last week's Standing On The Moon Cover Wars, it's currently a tie between Bruce Hornsby/Trey Anastasio and Mr. Blotto.