You Can't Always Get What You Want is the closing track on the 1969 Rolling Stones album Let It Bleed. Regular readers may remember we did our first Stones song edition of Cover Wars two months ago when we took a look at covers of Can't You Hear Me Knocking.
There are some very interesting quotes regarding the drumming on this track included in the book According to the Rolling Stones,
you can see the page in question over at Google Books (what an amazing resource).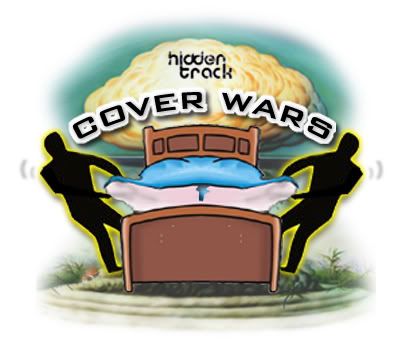 THE CONTESTANTS:
Aretha Franklin: This cover comes off a 1981 Aretha Franklin album that universally gets bad to lukewarm reviews. The arrangement is very 80′s. Still, it's worth a couple minutes to hear the Queen Of Soul sing lead on this tune. Source: Love All The Hurt Away
Audio clip: Adobe Flash Player (version 9 or above) is required to play this audio clip. Download the latest version here. You also need to have JavaScript enabled in your browser.
READ ON to hear the rest of this week's Cover Wars contestants…
Assembly Of Dust: Reid Genauer & Assembly Of Dust debuted (I think) this cover the night before New Year's Eve 2004. On an unrelated note to this Cover Wars, AoD has a new album coming out with different special guests on every track. The guest artists are all top-notch ranging from Richie Havens to David Grisman to Mke Gordon. Many of the tracks on the album, titled Some Assembly Required, are currently available for free streaming on the AoD website – check it out. Source: 12-30-2004
Audio clip: Adobe Flash Player (version 9 or above) is required to play this audio clip. Download the latest version here. You also need to have JavaScript enabled in your browser.
Band From TV: Band From TV is a group made up of television stars including the likes of Hugh Laurie (from House M.D.) and Greg Grunberg (from Alias & Heroes). All of the bands proceeds, both live and studio, get donated to a number of different charities. I'm actually a little unclear on who sings lead on this reggae take on this song, cruising a number of YouTube's including this audio, the comments section seems quite divided on the topic. Source: House M.D. Original Television Soundtrack
Audio clip: Adobe Flash Player (version 9 or above) is required to play this audio clip. Download the latest version here. You also need to have JavaScript enabled in your browser.
Def Leppard: This track originally appeared as a B-Side for the single Have You Ever Wanted Someone So Bad? and later appeared on the Deluxe Edition of Adrenalize. The artist on the track is actually credited as Acoustic Hippies From Hell, which is the members of Def Leppard with The Hothouse Flowers, an Irish Band. Thanks to the Def Leppard FAQ for that info. Source: Adrenalize [Deluxe Edition]
Audio clip: Adobe Flash Player (version 9 or above) is required to play this audio clip. Download the latest version here. You also need to have JavaScript enabled in your browser.
the Disco Biscuits: For Halloween 2006, the Disco Biscuits hired a few members of the Boston Symphony Orchestra Choir to supplement their already beautiful vocals. In addition to singing on this song, the choir was also used for Pink Floyd's In The Flesh, Carl Orff's Oh Fortuna, and a number of tDB originals. The song wasn't long for the repertoire, being played just one additional time (two days later) without the choir. Source: 10-31-2006
Audio clip: Adobe Flash Player (version 9 or above) is required to play this audio clip. Download the latest version here. You also need to have JavaScript enabled in your browser.
Max Creek: It's easy to forget that jambands like Max Creek have been at it since the 1970′s. By the time of this recording in 1988, Creek was already in its 17th year of existence. This was also right around the time Mike Gordon was lying to Trey about the origin of Max Creek tune Back Porch Boogie Blues (he passed it off as one of his originals, so it could make it to the Phish stage). Source: 3-12-1988
Audio clip: Adobe Flash Player (version 9 or above) is required to play this audio clip. Download the latest version here. You also need to have JavaScript enabled in your browser.
Radiators: The Radiators, who have recently become Cover Wars regulars, supply a slow and gospel-like arrangement to this week's edition. Source: 10-23-2004
Audio clip: Adobe Flash Player (version 9 or above) is required to play this audio clip. Download the latest version here. You also need to have JavaScript enabled in your browser.
Rusted Root: For Rusted Root's fourth studio effort (which was their self-titled), they included this cover. Be on the lookout for a lyric change in this cover. Hint: Michael Glabicki's favorite flavor is NOT Cherry Red. Source: Rusted Root
Audio clip: Adobe Flash Player (version 9 or above) is required to play this audio clip. Download the latest version here. You also need to have JavaScript enabled in your browser.
Vince Guaraldi: This album (Oaxaca) was released in 2005 and included a lot of unreleased material from Guaraldi. In addition to this 16+ minute rendition, there's also a beautiful take on The Beatles You Never Give Me Your Money. Source: Oaxaca
Audio clip: Adobe Flash Player (version 9 or above) is required to play this audio clip. Download the latest version here. You also need to have JavaScript enabled in your browser.
Checking in on Band On The Run from two weeks ago – Foo Fighters have emerged victorious, so congratulations to Dave Grohl and company.