Written by
Slade Sohmer
on 01.04.2007 |
Beck
,
Cactus
,
Greyboy Allstars
,
Hidden Track
,
MMW
,
My Morning Jacket
,
Reviews
,
Scott Metzger
,
Tea Leaf Green
,
The Duo
,
Trey
Here's why I think some of us obsess so much over both live music and sports: In themselves, there's a natural beauty in watching something incredible and unscripted unfold in real time. But in addition to the ability to reflect upon a trove of both memorable and forgettable experiences, we also get to quantify those experiences through sheer statistics. After all, how often did you find yourself updating your Phish Stats after a nice run and smiling at the latest Notable Gap?
I'm always been a fan of keeping track of show stats, and I think ZZYZX probably created the best derivative form of entertainment in the music industry. Well, the accounting firm for Ace Cowboy & Associates has now officially crunched the numbers for this year's annual report to the shareholders, and the results for 2006 are in: In all, I caught 86 live performances by 59 different bands at 60 ticketed shows in 37 separate venues. Not bad for my soul, not good for my wallet.
Most sites are done with all the Let's Look Back at Last Year exercises, but I wanted to wait until every show was given a puncher's chance to make the list. I'm not gonna break out into a rousing rendition of Mr. Kellerman's "Let's join in with one last chorus, visitors, staff and guests…" routine, but join me in taking one last peak at the best performances of the year, as I saw it.
But before we get to my 10 favorite shows of the year, let's add just a touch of superlative to the festive proceedings here:
Best Opener of 2006: Dale Earnhardt Jr. — A couple of friends and I exited the LIRR for the August 10th Tea Leaf Green show on Lawn Gisland and walked into a mass of blue-state redstaters. Immediately preceding the TLG show at Mulcahy's this evening was none other than Number 8, signing autographs and taking pictures with decked-out fans. Turned out to be a great night, with NASCAR fanatics and obsessive faux hippies all coming together at Mulcahy's in support of good tunes and the HANS device.
Best Under-the-Radar Performance of 2006: NOMO – I loved the guy in the Hideo Nomo Dodgers jersey at Joe's Pub for this gig, and so did the Ann Arbor-based post-Afrobeat band that called him out on it. But sports paraphernalia aside, if you're looking for a great group of horns with well-written songs, make sure to check out NOMO when they hit your town. Like the Chicago White Sox' slogan when I was in college, "These kids can play." See 'em.
Biggest Disappointment of 2006: Secret Machines — I'd been told by many people I trusted that I'd leave the show sockless, as a result of them being knocked off. Only this show was so mediocre that my socks were firmly affixed all night long, in no danger of being removed completely from the feet. The set-up was awesome, the In The Round idea being cool as hell. Musically, maybe I just don't get it, but I thought their whole repertoire was "decent" to "meh."
Coolest Moment of 2006: Dr. John — My girlfriend at the time surprised me with tickets to see the good doctah at BB King's shortly before Valentine's Day, knowing my love of his performance in The Last Waltz. We had a great time, sung along to the ones we knew, danced to the ones we didn't. But we were both anxious to hear Such A Night, and when he sat down at the piano for the encore and hit the opening note, I nearly hit the ceiling in excitement. Awesome.
And now, without any further (Freddy) ado, my 10 favorite shows of the year:
10. Medeski, Scofield, Martin & Wood — Bowery Ballroom, 11/26/06
Few bands seem as "professional" as MSMW on stage, which is fairly incredible considering only three-fourths of them play together on a consistent basis. Jazz guitar legend and former Miles Davis collaborator John Scofield is perhaps the only musician that can step into MMW's world for a tour and actually improvise outstandingly to create real music every single evening. And on the second night of their two-show run at the Bowery, these guys let it all hang out for an amped New York audience, even at times eschewing their typical style of jazz jamming in favor of a more free-form rock. It was peein' yo' pants cool.
This wasn't a nostalgic look at the 10-year-old A Go Go, the album on which the four hooked up for the first time, this was a case of four adroit craftsmen meshing as a tight quartet. I'll tell you what…take out the standard handful of four-minute mini-setbreaks in which Billy Martin shakes a bag of old toenails or taps a rolling pin against a bed of nails to create "sound" while John Medeski hits a key every 16 seconds for "effect," and this show might be in the top three.
9. GRAB and Phil & Friends — PNC Bank Arts Center, 7/1/06
I'll say up top, I'm a big fanboy fluffer of the GRAB and Phil tour. I mean, how can you not like half of Phish with The Duo and Big Phil's band in tow? Even before they play their first notes you've got a Cheshire grin on your head. Of the three shows I saw on this tour, PNC stood out most because Trey, Cactus, Marco and Sir Joe played the later set, allowing Chris Kuroda to add more of his patented brand of light show to the proceedings. Plus, both Trey and Mike came out separately to play with Phil & Friends earlier (Mike on Cumberland Blues and Big River, Trey on Franklin's Tower and Goin' Down The Road Feelin' Bad). Walter Payton musta been in the house because those moments were true cases of Sweetness.
This show was all about three great musicians finally challenging Trey to a level he had formerly been familiar with, and Trey rising to that challenge triumphantly (yet a portion of the paying audience ran home to post negative reviews in the quest for almighty board cred). Mike provided the song of the night, and really, the song of the tour: Suskind Hotel. Throw in well-played and fantastically jammed versions of Mr. Completely, Plasma and Goodbye Head, a fun Get Back cover and a Phil opener, and you've got a really stellar show from start to finish.
8. My Morning Jacket — Roseland Ballroom, 11/30/06
It's not often bands live up to the often crushing hype of the cyberweb. But just six weeks ago, My Morning Jacket came to town and managed to surpass even my wildest expectations. My neck hurt for a week after the show from the amount of involuntary headbanging that began immediately as MMJ started playing One Big Holiday from behind a curtain to kick off the show:
As I said in my review after the show, "One of the reasons I dug these guys so much is their incredible rock-heavy stage presence. Nearly every song — save a few slower tempo numbers — led to a jam that brought all three guitar-holding members into the center of the stage, where they all eyefucked wook drummer Patrick Hallahan and jumped around like caged monkeys. Jim James did these rock-jumps wearing knee-high Moonboots, and that may have been worth the price of admission alone. I'm dead serious." I stick by my story today.
7. The Duo's 5th Anniversary — Knitting Factory, 12/27/06
At home in the place that spawned them, The Benevento/Russo Duo did their NBA'ers in Rucker Park imitation: Two fellas coming back to the ol' schoolyard to fuck around, turn some heads and make it look easy. Eighty-eight lucky souls crammed into a modified basement in the Knit and spent the evening sweating out 10 pounds each and celebrating five great years. The Duo didn't disappoint, busting out older material, rocking out the newer stuff and polishing off a flurry of covers like Fifty Ways To Leave Your Lover, Seven Nation Army, Just the Two of Us and at least three Duofied Zeppelin tunes.
Our reviewer Neddy described the evening best: "Early on in the first set, during possibly 'Raindrops Whisper Words' (although don't quote me on any setlist items, remember the whiskeys), [Joe] played some of the most entrancing drumming I've ever witnessed, a totally hypnotic stretch that left me agog, his limbs leaving circular trails in the air: fingerpainting with percussion. Marco reminded me about the times when it was all about that left hand — the appendage with its own agenda, declaring independence from the groove." Good times.
6. The 2006 Jammys — Theater @ MSG, 4/20/06
There's an automatic show on my calendar every year, and that's the Jammy Awards. It's a five-hour production full of interesting musical juxtapositions that are sure to provide more than a few interesting moments. In the past we've seen such cool lineups as Buddy Guy, John Mayer, Phil Lesh and ?uestlove, Bruce Hornsby and Yonder Mountain String Band, Blue Oyster Cult with moe., and Gov't Mule with Gregg Allman, Derek Trucks and Trey Anastasio.
This year's Patchouli Grammys failed to disappoint, providing such eclectic collaborations as McCoy Tyner, Bela Fleck and Savion Glover, Zappa Plays Zappa with Umphrey's McGee guitarist Jake Cinninger and Chick Corea, and Grace Potter, Joe Satriani, Steve Kimock and a slew of others on Cortez the Killer. Shit, we even had a touch of Old Britannia, with Peter Frampton sitting in with Martin Sexton and Guster. Do you feeeel like we dooooo? Ohhh, that's true.
5. Greyboy Allstars — Irving Plaza, 4/8/06
We had some fun at Greyboy's expense earlier this week, pointing out the smooth jazziness of the 12/29 show at the Nokia Theater. But for my money, it doesn't get all much better than seeing these five musicians back in action after a long hiatus. They're jazz, they're funk, they exude the best qualities of a jamband without any of the subculture or pretension. They get up there and they blow hard (the jazz definition of blow, not the sexual or grade school definition).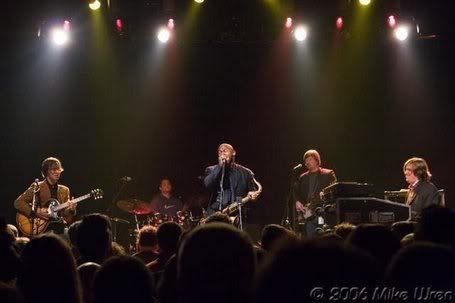 I just went through my review from the day after this show for inspiration, and the following graf about key-tickler Bobby Dubs stood out as more worthy of re-posting than anything serious: "Robert Walter is a better keyboardist than anyone I know personally. I say that because I feel like he's the kid you went to high school with who wore overly nice clothes, maybe a tie and jacket to class, drove his father's Beemer, only at night he got seriously baked and played the party host's parents' piano all night before getting blown on the bench by the chubby, drunk slut who kinda digs music." Where did I go wrong back then?
4. Tea Leaf Green (archive) — CBGB, 4/22/06
Nobody does it for me like TLG. And every time I attempt to wrap my head around the reasons for this attraction, the band comes around and renders all my thoughts moot with an insane show that leaves my head spinning. Such was the case in April, when this young band of California adventurers stormed into Manhattan as part of the Green Apple Music Festival and blew the fucking doors off CBGB. If that club weren't closing anyway, I'd suggest they shut it down after the musical damage TLG did to the place: a five-hour, three-set, 36-song monster.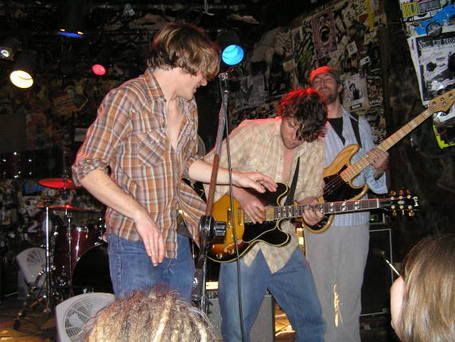 As I said in my review the next day, "From the rockin' Morning Sun > Criminal Intent, Kali-Yuga > Garden II opening barrage to the Dragonfly, Can't Get High > Ride Together 'Thanks for stayin' folks' encore, the band did just that. The first set was great, the second set was absolutely incredible and the third set was off the charts. I had some charts, but now I need a whole new set of charts, that's how off the charts that last set was. The energy in that room could have healed the sick…I could craft a list of highlights as long as the tax code. But this is the finest compliment I can give: They fucking rocked that place."
3. Beck — Theater @ MSG, 10/18/06
I missed the potentially life-changing "Shake It 'Til My Dick Turns Racist" tune from Beck's opening act, Spank Rock, but the rest of this show fucking floored me. I thought I'd seen a lot of good shows over the past few years, but Beck made me realize that most of them were just plain old concerts. The live marionette show that accompanied the music was on par with some of the coolest shit ever, making it impossible to separate musical reality with awesome puppetry.  
Mostly I came away super-impressed with Beck's versaitle backup band, though, a group of talented motherfuckers that switched up instruments all night and generally provided a great backdrop for Beck to shine. I recall saying how "I'd love to have been a fly on the wall when Beck picked this band. It's as if he said, 'Hey you, can you play the guitar? Well, how about flute? A little xylophone? You're hired, broseph.' Then the next guy comes in: 'Can you play the bass? How about the conga drums? Can you look like Malcolm Gladwell in a leather biker outfit? You're hired, too!'" Plus, Scientology's cool.
2. Roger Waters — Madison Square Garden, 9/13/06
Full second-set Dark Side of the Moon with Nick Mason on drums? Sign my ass up. Toss in an epic Shine On You Crazy Diamond, Have a Cigar and Wish You Were Here trilogy in the first set and you've really got the goods. Waters still has it, both the voice and the bass chops, and this show came dangerously close to taking the top spot on this list. I paid $100 for the ticket, well above what I've spent at 99.44 percent of my shows seen, and it was still worth every penny.
Here were my thoughts from the day after the flying pigs and pro-Arab sentiments: "What's really great about the show is that you think you know what you're going to get when you walk through the turnstiles. But when some awesome and probably interchangeable black chick is belting out Great Gig in the Sky on stage at Madison Square Garden, with Waters and Mason pounding away, with a palpable buzz in the air, with huge screens behind and next to the stage enhancing the music, you just forget how wickedly blessed you are to be in that seat." And I'm not even sure "blessed" is a strong enough word…
1. Bustle In Your Hedgerow — Rocks Off Boat Cruise, 8/28/06
Imagine seeing a sick local house band at your buddy's party…only now put it on a boat on the Hudson River at the end of August. That's how I felt about this show. This was our show, a concert which everyone thought was a college party, throwing caution to the wind and getting down to some killer Zeppelin tunes. How can I put a glorified cover band at the top of this list? If you were on the boat that night, you'd certainly understand.  
Scott Metzger, Diamond Dave Dreiwitz and The Duo brought the bag of tricks that night: "The boat was crowded but not nearly packed, and watching people try to dance in the small space when the waters whipped the ship around was pretty hilarious. But dance we all did — it helps when you're prodded by four insanely talented musicians that get together rarely to cover one of the greatest rock bands of all time. What's more impressive is how amazing they do it, though. I could maybe perhaps kinda use a lead singer up there, but musically, I'm not sure I've heard anyone cover anything so incredibly in the history of live music. How's that for all-out fluffing hyperbole?" I agree with myself.
I'm not sure who'll top the list this coming year, but I'm sure you'll hear about it along the way. Allright, now for the rest of the concert roster from 2006:
60 Shows (2005: 37)
86 Musical Performances (2005: 73)
59 Different Bands (2005: 48)
37 Venues
12/30 – Spoon – Webster Hall
12/29 – RANA – Knitting Factory (Tap Bar)
12/29 – Greyboy Allstars – Nokia Theater
12/28 – Tea Leaf Green – Mexicali Blues (Teaneck, NJ)
12/27 – The Duo – Knitting Factory (Old Office)
12/23 – Topaz (with Scott Metzger, Joe Russo, Justin Wallace, Borahm Lee) – Fontana's
12/20 – Negative Ken – Crash Mansion
12/8 – Big Sam's Funky Nation – Knitting Factory (Tap Bar)
12/2 – Give Us The Money Lebowski – Knitting Factory (Tap Bar)
12/1 – Umphrey's McGee – Nokia Theater
11/30 – My Morning Jacket (with The Slip) – Roseland Ballroom
11/29 – Marco Benevento, Reed Mathis, Matt Chamberlain – Tonic
11/26 – Medeski, Scofield, Martin & Wood – Bowery Ballroom
11/25 – RAQ – Club Exit, Brooklyn
11/23 – Marco Benevento, Joe Russo, Bobby Previte, Mike Dillon – Tonic
11/16 – Marco Benevento (w/ Scott Metzger) – Tonic
10/21 – Tea Leaf Green – The Vic
10/18 – Beck – Theatre @ MSG
10/14 – Tea Leaf Green – Irving Plaza
10/9 – Trey Anastasio – Webster Hall
10/8 – Trey Anastasio – Webster Hall
10/2 – The Secret Machines – Irving Plaza
9/16 – Widespread Panic – Radio City Music Hall
9/13 – Roger Waters – Madison Square Garden (Dark Side of the Moon)
8/28 – Bustle In Your Hedgerow – Rocks Off Boat Cruise (Temptress)
8/14 – The Roots – Webster Hall
8/10 – Tea Leaf Green – Mulcahy's (Wantagh, NY)
8/5 – Randall's Island DMB Festival – Icahn Stadium
(Tea Leaf Green, Yonder Mountain String Band, Slightly Stoopid, Bela Fleck & The Flecktones and Government Mule)
8/3 – NOMO – Joe's Pub
7/26 – Karl Denson Trio – Blue Note
7/23 – Bethel Woods Jazz Festival – Bethel Woods Center for the Arts
(Preservation Hall Jazz Band, Cyro Baptista & Beat the Donkey)
7/20 – Umphrey's McGee with Galactic – Central Park Summerstage
7/9 – GRAB with Phil & Friends – Bethel Woods Center for the Arts
7/7 – GRAB with Phil & Friends – Jones Beach
7/1 – GRAB with Phil & Friends – PNC Bank Arts Center
6/20 – Tom Petty & Heartbreakers with Trey Anastasio – MSG
6/14 – Maceo Parker & Friends – Irving Plaza
6/13 – moe. – Central Park Summerstage
5/31 – Ramble Dove with Grace Potter (feat. special guest Trey Anastasio) – Irving Plaza
5/20 – Greyboy Allstars – Fillmore (SF)
5/18 – Phil & Friends (with John Scofield in lineup) – Warfield (SF)
5/18 – Met Page McConnell in JFK airport
5/13 – Buzz Universe with Chris Barron of Spin Doctors – Wash. Square Park
5/11 – Danjaboots and Tom Hamilton's American Babies – Knitting Factory
4/28 – Benevento/Russo Duo – Bowery Ballroom
4/22 – Tea Leaf Green – three-setter at CBGB (Green Apple)
4/21 – Particle – Bowery Ballroom (Green Apple)
4/21 – Umphrey's McGee – Vanderbilt Ave outside Grand Central (Green Apple)
4/21 – Grace Potter & The Nocturnals – Vanderbilt Ave (Green Apple)
4/20 – The Jammy Awards – The Theatre at MSG
(Mutaytor with Ritchie Havens, Blues Traveler with DJ Logic and Betty Lavyette, McCoy Tyner/Bela Fleck/Savion Glover/Jeff Coffin, Joe Satriani/Steve Kimock/Grace Potter, Zappa Does Zappa with Napo Murphy Brock, Peter Framtpon with Guster, moe. With Mad Professor, Rhythm Devils with Mike Gordon and Mutaytor, Little Feat with Billy Kreutzmann and Mickey Hart and more)
4/8 – Greyboy Allstars – Irving Plaza
3/22 – Lo Faber Band – Sin-E
3/20 – Allman Brothers Band – Beacon Theater
3/10 – Tea Leaf Green with U-Melt – Knitting Factory
3/9 – Tea Leaf Green with U-Melt – Knitting Factory
2/17 – Umphrey's McGee – Nokia Theatre
2/10 – Dr. John – BB King's
1/21 – Freaks Ball VI – Coda
(Coxygen – The Duo, Skerik and Mike Dillon; Metzgerville – Scott Metzger, Dave Dreiwitz, Kevin Kendricks and Erick Kalb; Secret Government)
1/13 – Tea Leaf Green – Quixote's (Denver)
1/12 – Tea Leaf Green – Fox Theater (Boulder)
1/1 – The Insane Luchadors with Danjaboots – Knitting Factory
(Marc Brownstein, Jamie Shields, Sir Joe Russo, Scott Metzger)
By month: Dec (10), Nov (6), Oct (6), Sept (2), Aug (5), July (6), June (3), May (5), April (7), March (4), Feb (2), Jan (4)
By venue: Knitting Factory (8), Irving Plaza (5), Webster Hall (4), MSG or Theater (4), Tonic, Nokia Theater, Bowery Ballroom (3)
Previously on Slack LaLane: 2005: The Year of the Live Show