First, a quick word from Phil: "Basically he was selling EVERYTHING he had. Honestly, the 2 or 3 posters I didn't see that I was interested in they had around in storage and would have been happy to sell to me. Pollock was a cool dude, too. Very nice, very friendly. We had a good time hanging out with the small crowd of SUPER DUPER poster geeks (whom I respect 100% of course)." Of course you do, man, you are one.
I love the derivative world of music and art – here's Hidden track using a picture of someone else's photographic tricks of someone else's actual art of someone else's band. Did that make sense? Probably not. My head hurts today.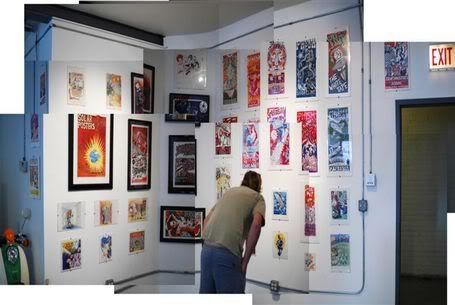 Our friend and occasional collaborator TJ in OH has this to say: "In the mosaic picture, the guy is clearly lusting after the Went walking fish poster. That thing is worth like $5K. I know a lot of those Pollock Phluffers from his message board and expressobeans…they definitely went home and touched themselves after the open house." Well said, TJ, well said.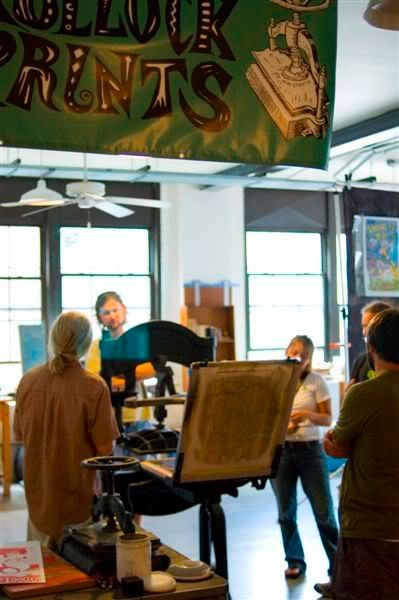 Above: Pollock takes some Q&A; Below: The tools of the trade
More Pollock tools that I couldn't use because I am a spaz…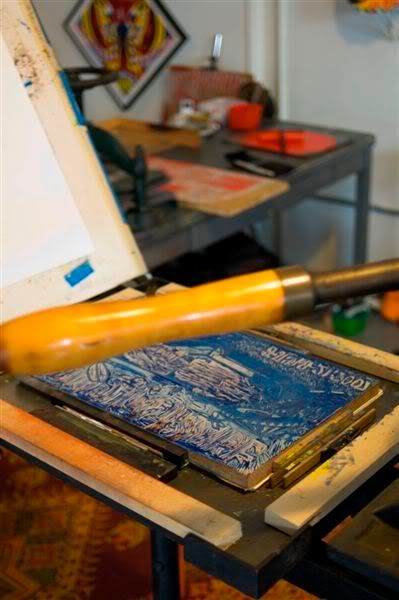 And last but not least: The drying rack — ain't it awesome?
And just because there's no real way to end this post, here's some streaming Phish of 12/31/95, which was Pollock's first limited edition poster. Enjoy.