For most of 2008, Howlin Rain's sophomore release Magnificent Fiend has completely dominated my listening. For those of you who don't know, Howlin Rain is Ethan Miller of Comets on Fire's other band. The record came out at the beginning of March, but I'd received an advance copy early in the year and took to it immediately.
Howlin Rain's 2006 eponymous debut was damn good, but in retrospect laid the groundwork that was undeniably built upon with this release. Where the debut was cautiously and deceptively unadorned, MF is full of vintage goodness, sounding like a lost gem from the golden era of album-rock. It brings us back to an age when organic chemistry and clever arrangements lead to an album sounding like a complete, cohesive thought. Ethan Miller's marathon vocals lie atop a rich tapestry of organs, pianos, horns, and overdriven guitars set against a rock-solid rhythm section. Long story short – Magnificent Fiend kicks serious ass.
After 2+ months of immersing in the record, I was ready to see those tunes live. I finally got my chance March 27 at the Empty Bottle in Chicago. I'd spent so much time with the studio output that I'd conveniently forgotten about how the songs might play out differently live. From the opening moments of Death Prayer in Heaven's Orchard off the debut, I was quickly reminded that Howlin Rain is a living, breathing organism just beginning to find its legs and navigate through life. Throughout the course of their hour set (which was WAY too short), there were moments of absolute brilliance and moments where the whole thing was hanging on by a thread. The biggest thing I noticed watching Ethan and company navigate through the set was how real it all was. Read on for more…
There is no bullshit with Howlin Rain. The entire length of the set, there was an honesty that is rarely found in modern rock music. Both when they were straight killing it and when things were a bit shaky, the band's facial expressions told the tale. Please note, dear reader, this is NOT a bad thing. Granted I would have been thrilled to see an hour of entirely epic music, but I prefer my rock with feeling. I like the process of a band working a crowd without the tricks and gimmicks, just with instruments, and take much more from the experience if its not sterile.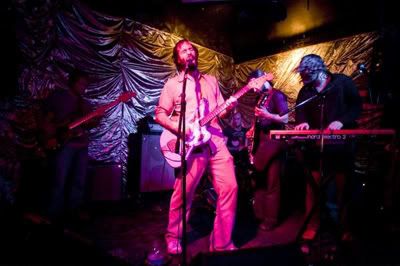 The setlist itself was a great mix of both records and a stellar showcase for Ethan Miller's vocals. I really cannot say enough about his tone and sheer vocal power. Its almost like combining the tone and grit of Joe Cocker with the emotion and note elasticity of Chris Cornell at the same time, without really sounding like either. Joel Robinow's contributions also cannot be understated. Often the only melodic counterpoint to Ethan's growling Jaguar, Joel's B3 and Rhodes work are instrumental to the band's full sound.The intro to "Dancers at the End of Time" was huge as I'd hoped, and "Calling Lightning Pt 2" rocked hard on the strength of its arrangement. Perhaps the biggest surprise of the evening, was the encore version of Vanilla Fudge's Supremes cover "Keep Me Hanging On." Howlin Rain nailed this raunchy version practically note for note, closing the evening on a huge high note.
I cannot wait to see this band again and see how much they've grown as a live project. They have an expansive tour ahead, which can do nothing but flesh out the sound into something glorious. The actual songs are some of my favorite new tunes I've heard in years. Definitely see this band if they come near you, but in the meantime check out samples on Howlin Rain's Myspace page. I really cannot say enough good things about Magnificent Fiend, and the live project is well on its way to becoming a force.
Howlin Rain
3/27/08
The Empty Bottle
Chicago, IL

Set: Death Prayer in Heaven's Orchard, Dancers at the End of Time, Calling Lightning Pt 2, In Sand And Dirt, Nomads, El Rey, Roll On the Rusted Days
Encore: Keep Me Hanging On