Old 97′s @ Lincoln Hall, July 19
It's unfair, when you think about it, but I'm also kind of glad the Old 97′s aren't as beloved as many of their musical peers. Then, they'd be your band, in addition to my band.
We all have "my" bands. The band you hold tight and celebrate for your depth of knowledge and their consistently winning live experience. The band for which you're more of an apologist than you should be when they don't deliver. The band you spend a hell of a lot of time evangelizing and dragging less enthused pals to see in concert just because then they might finally get it.
Most "my" bands seem to have certain characteristics: a critical darling, perhaps, languishing in that concert space between rock clubs and theaters, too big for the former and not quite ever ready for the latter. You spend less time worried about whether they'll ever make it over that hump, however, and just enjoy that they are. Rare do "my bands" ever seem to get there, anyway, unless, of course — like the band most often discussed on Hidden Track — they ascended on grassroots popularity and the wondrously shared experience of a whole lot of people who saw a true "my band" in formative years in Vermont.
READ ON for more on Old 97′s at Lincoln Hall…
Maybe what makes Old 97′s such a convincing sell: they come off as down to earth in a rock subgenre that's rarely grounded. They're not the songwriting force a Ryan Adams is, but not as brutally self important, either. They're less precious than Wilco forebear Uncle Tupelo, and just as explosive — if not as nuanced — a live band as the Drive By Truckers, to whom they're often compared. They add a tincture of punk to what their smoother musical cousins in the Jayhawks practice: a darker shade of Gram, for certain, but more a rock band — a loud, sweaty, snarling rock band — than a country band. They connect. They're unpretentious, even when that rakish Rhett Miller turns on the lovesick charm for the ladies in the room. Even their bad songs seem to make your beer taste better.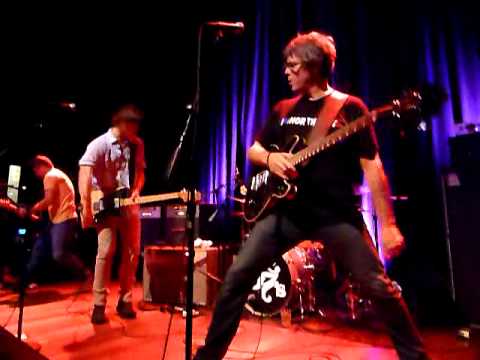 At Lincoln Hall in Chicago — the second of a two-night run in a city, as bassist Murry Hammond noted from the stage, that has long been good to them – they typically excelled. You wouldn't call it a connoisseur's setlist with so many familiar touchpoints and Old 97′s tropes, but you'd find no argument, either: torpedo-like pacing, barely lumpy, building to fiery peaks. They were aided by a confident sampling from The Grand Theatre, Part Two — their ninth and most recent studio album — whose stronger tracks (Manhattan (I'm Done), I'm a Trainwreck and Bright Spark (See What I Mean), nestled in comfortably with Old 97′s classics like Victoria, Barrier Reef and Four Leaf Clover.
It went by in a boozy blur — more than two hours' worth of mini-blurs, rather — with some smile-worthy stops along the way, like Miller's decision to bust out Tom Petty's American Girl during his usual, first-encore solo segment. There were consistent comforts throughout, most of all the knowledge that all those ferocious guitars and charging boogies would wind up, somewhat intact and somewhat ramshackle, at usual closer Time Bomb and inspire that last, ill-advised trip to the bar. It's long before that point in the show that you've stopped worrying about how much realistic potential Old 97′s really has to grow anymore as a band. You accept the good thing you have.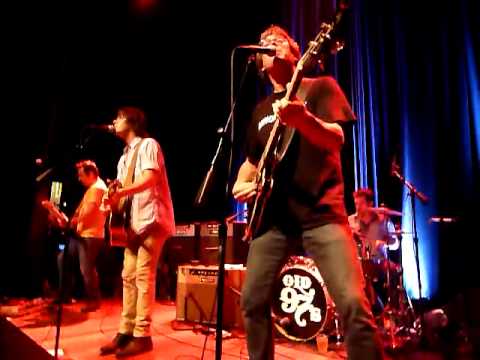 If you didn't get to Lincoln Hall early, you missed up-and-comer Robert Ellis, a Houston-based country and folk singer, responsible for what, to these ears, is one of the most accomplished albums of 2011.
Photographs, which is split between gentler, singer/songwriter-focused folk tunes and revved up country in the classic, George Jones sense of the word, goes wide and deep, revealing a deep embrace of country music history — and all the ways an A-1 country song can inspire, and move, and crush — and a mischievous streak, too.
Live, Ellis' band showed what it had learned during two years of formative gigs in Houston — a weekly residency called Whiskey Wednesdays where they mined the country songbook well into its obscure corners. Another "my" band on deck, folks, and here's hoping for a lot more than that.