This is a new idea around HT, where we're gonna try to work with some of our favorite up-and-coming bands in a you scratch our back, we'll scratch yours format where we'll aim to exclusively release pro-quality, mixed recordings of some stellar shows that might fly under the radar.
Steve Neary, Andrzej Benkowitz, Chris Sell of Steez
By "exclusive," we certainly don't aim to prevent the show from making it's way to the archive or anything like that, but rather just to let it out here first for a little publicity. Basically, it just makes us feel cool. Anyway, this is an experiment in progress, so any thoughts are welcome.
Band: Steez
Date: December 12, 2008
Location: High Noon Saloon, Madison, WI
Download: Click Here
READ ON for more details on this fantastic Steez recording…
Band Members: Matt Williams (keyboards/synthesizers/accordion), Steve Neary (guitar and vocals), Rob Bessert (drums), Chris Sell (bass), and Andrzej (pronounced "Ron") Benkowski (saxophone, oboe, and violin)
Recording and Mixing: Andrew LaValley of Bear Sound
Highlights: Like a Prayer cover!!, Hip Hop Collaboration, Ben Silver (Orchard Lounge) Segue with Steez, Daft Punk's Robot Rock, pretty much everything
Now a three-year tradition at the University of Wisconsin, Steez takes to the stage on the last day of classes for the fall semester every year for their annual Mustache Bash. Growing into larger venues with each successive year, this year's Bash went down at familiar Steez locale, the High Noon Saloon, where around 300 mustachioed Madtowners aimed to blow off some steam and celebrate the holiday season. This year's Mustache Bash easily topped them all surpassing everyone's exceptions and playing host to a photo booth, local Madison radio station WSUM with adhesive mustache swag in tow, and heaps of special guests.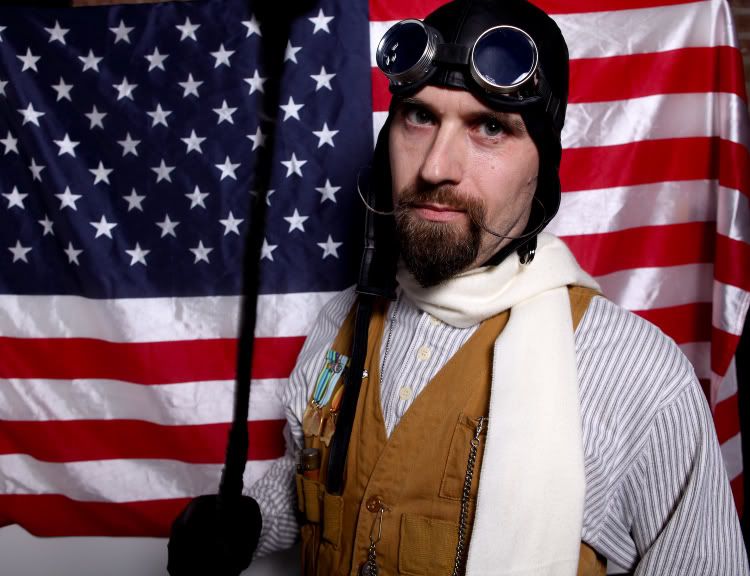 3rd place moustache
Generally speaking, Steez is a band in the sweet spot; that point where they are really clicking with one another and getting a lot better, fast. Every show they play right now is better than the last. What impresses most is that for a young band largely comprised on non-classically trained musicians, they fit the pieces together in a very mature manner; synergy [interlocks fingers while looking serious].
One would expect a band that focuses on such high energy music and comprised of five members, that space would be an issue. Who wouldn't want to solo non-stop with, as one of their hip hop guests proclaims, "the energy meter way the fuck up here." Not the case though, they exhibit a lot of patience as the saxophone and keys often hold back from playing minutes at a time and solos are generally contained and the jams are more about getting the whole band rocking rather than featuring individual playing. And with the help of Andrew LaValley from Bear Sound adding his magic touch on live sound and mixing down crispy reproductions, the recordings are incredible.
After local faves, Herman Price warmed things up, one leg of famed DJ triforce Orchard Lounge and newfound Madison native, Ben Silver, kicked things off for Steez. The Steez/Orchard Lounge connection is becoming a fan favorite as Steez has begun to make a habit of coming out to start shows with a segue where they jam with the DJs out of Orchard Lounge's set — or in this case Ben Silver's — which translates into a vitreous globule of sound. The segue to kick of the Mustache Bash takes a few minutes to warm up, but by the midpoint, this 15 minute plus segment gets plain mean.
After Ben Silver bid the band adieu, Steez compiled a beefy sandwich of one of their funkier originals, Scoring Position, between one of their tamer, TKO. It probably takes a pretty keen listener with a familiarity with the band's repertoire to discern the two songs, but having heard most of their shows, this is a tight mash, which hopefully returns from time to time. At this point, Steez launches into its first cover of the night, the always fun Thriller. While we've all heard our share of Thriller covers, Steez covers tend to forego human vocals in favor of Ron's seductive saxophone vocals, which translate magnificently both here and a number of other times throughout the night.
Next up came one of the really colossal highlights of the show as Steez invited out three well-known hip hop MCs, including Raashan Ahmad from the Crown City Rockers, Bru Lei, and Apocalypse, Inc, out for a 20 minute plus improvisational beat down. While the original intention is a riff on the Coolio (or possibly Tupac) classic, replacing "Ain't no party, like a west coast party" with "Ain't no party like a mustache party," the real name for this song has got to be Tummy Full of Poison. This line perpetually returns throughout the collaboration and will drill into though your head like a brain eating worm.
While the subsequent sit-in from electronic fiddle wiz, Shauncy Ali, shined on raging renditions of Daft Punk's Robot Rock (complete with some goblin-esque talk box action on the keys) and Steez's own So I Guess I'll See Ya, Pt. II, the true moment of bliss came during the encore as Steez busted out a stellar rendition of Madge's classic, Like a Prayer. Take it from my wife's reaction, this song will put smile on your face and some '80s in your dance moves.
The next few months and through the summer should prove to be a big stepping stone for Steez as they have some bigger things on the horizon. Besides yet another collaboration with Orchard Lounge in Chicago and an STS9 after-show, the highlight on the docket has to be the three night run of Umphrey's McGee after-parties, including a split bill with another up-and-coming HT fave, The Hue. That sounds about like a festival to me. Speaking of festivals, keep an eye out this summer as Steez should be making the rounds at a dirt pile near you.
Setlist:

1) Ben Silver > Steez Segue
2) TKO > Scoring Position > TKO
3) Thriller
4) Hip Hop Improv feat. Raashan Ahmad, Bru Lei, Apocalypse Inc
5) Robot Rock > *
6) So I Guess I'll See Ya pt II *
7) Like a Prayer

*w/shauncy ali on fiddle