Our main man Danfun's been a busy boy lately…let's check in with our favorite photographer after last night's big-time, small-venue White Stripes show.
The lyrics to the White Stripes song Little Room never felt as meaningful as they did last night. The Irving Fillmore Plaza packed in what seemed like an MSG-sized crowd to see the White Stripes' first local concert since 2005.
The band opened with When I Hear My Name and didn't stop rocking for two straight hours, rocking out well past midnight. Although Jack did have a little technical trouble during Dead Leaves, that didn't slow the duo down. At this point, I'm not sure anything can slow these guys down. Read on after the jump for more photos and thoughts from the show…
Next up was Icky Thump, which got mashed up into Canon and just brought on a hail storm of rock as Jack just kept teasing the guitar intro over and over again.
Then it was time for Jack to break out the bass for My Doorbell — this is when the audience really started dancing and the energy in the room started to blow the ceiling out. The venue could barely hold the band's sound, which may be the biggest compliment ever bestowed on a rock duo.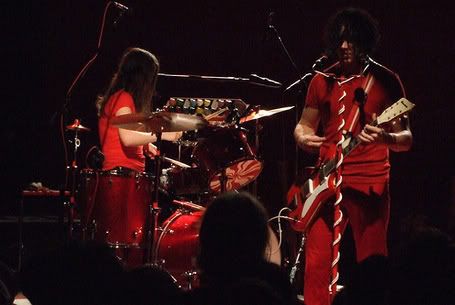 The Stripes played a great mixture of material throughout the night, but to me the highlights were mostly the new songs. Catch Hell Blues just flat-out raged, and Jack's slide playing was amazing. The main set ended with a Jack version of Black Jack Davey and then Black Math, which saw the entire crowd erupt in a full frenzy.
The encore was highlighted by a fierce version of Ball and a Biscuit, sending us all home tired but begging for more. But we walked out knowing it was a great show, a rare, small event for one of the most important bands in the music scene today, and it served as the perfect appetizer for rest of the duo's summer tour. See you around, White Stripes, we'll meet again.