Our intrepid reporter Sleepy Floyd probably can't feel his face this morning…but he sent in this communication from the Vegoose festival this weekend:
This year's Vegoose festival surely is different from the two prior incarnations. Sam Boyd Stadium — off the "lovely" Boulder Highway, lying next to a cookie-cutter subdivision that's infinitely more Phoenix than Las Vegas — is still very much the same. But the lineup and the scene have each evolved in record time.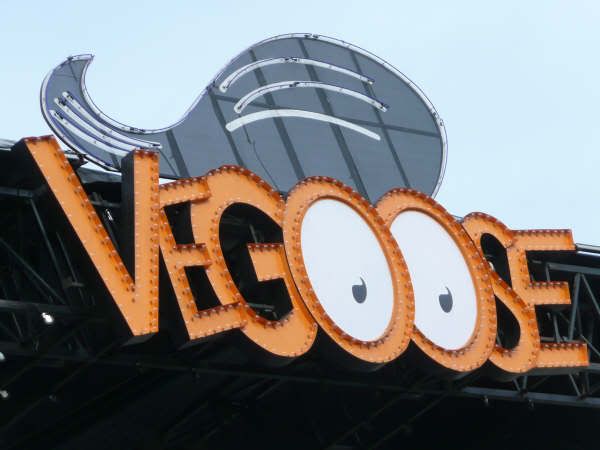 More closely resembling Lollapalooza than a typical jamband festival, there were more Daft Punk T-shirts than tie-dyes, and Trojan condoms were being passed out instead of free hugs. If a lineup of Mastodon, Queens of the Stone Age and Rage Against the Machine weren't enough to scare the hippies away, try adding Public Enemy, Lupe Fiasco and M.I.A. And if that didn't do the trick, maybe invite Muse, Ghostface Killah and the biggest anti-hippie of 'em all: Iggy Pop.
Gogol Bordello makes people forget about Big Ten football
Although the "scene" itself has changed, the mission is still the same for the folks at Superfly: throw a ton of music our way at the same time and keep us running between stages. Not a bad way to be spending your afternoon, as long as it keeps you away from the $5-a-slice pizza. I love Spicy Pie? Maybe at $3 a slice I'd love you long time — talk about a markup. So read on after the jump for a recap of the festival and some quality photos from our man on the ground…
Battles: These instrumentalists sounded a lot like Tortoise or perhaps along the lines of instrumentalists Explosions in the Sky. In the opening slot on the Snake Eyes stage, they were one of the good early festival "finds," particularly because post-rock is easiest to digest earlier in the day.
(All photos by Sleepy Floyd except otherwise specified)
Last two photos by Teddy
Lupe Fiasco: "Yeah, yeah, check it out now, yeah, yeah, check it out now" shouted Lupe Fiasco. This was straight-forward hip-hop, no Roots or Jurassic 5 rock/rap band thing going on. Lupe kept it real, but a majority of the crowd was over at the Double Down Stage, catching Gogol Bordello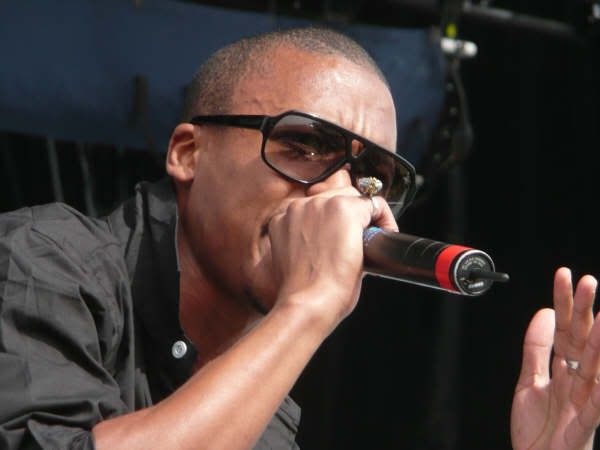 Gogol Bordello: The self-described "Gypsy Punks" showed why they are on the "verge," or maybe it's because lead singer Eugene Hutz knows how to throw down at 1:00 p.m. While most of the world was tuned into college football, Gogol Bordello showed that anytime is a good time to have a party…Slavic style.
Photo by Teddy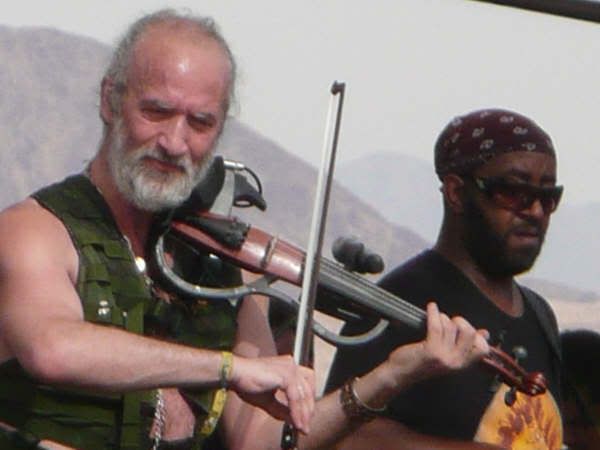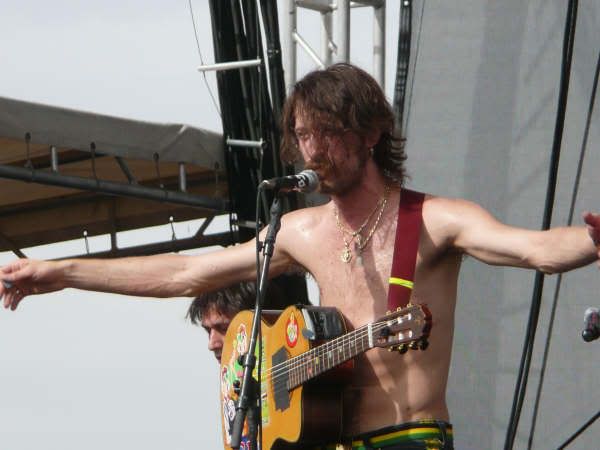 Some costumes: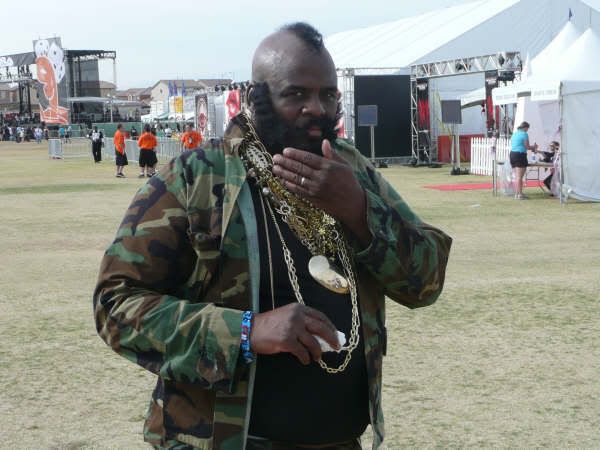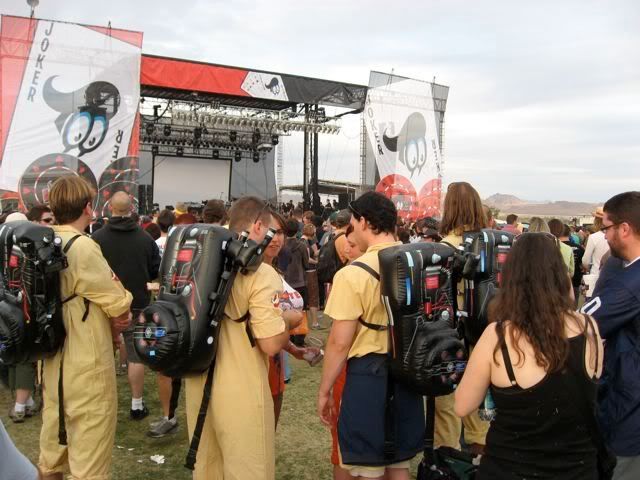 Photo by Teddy
Blonde Redhead: This artsy-fartsy trio is certainly not your typical festival act, but they had one of the best albums of 2007 so far, so who cares. Dreamy electronic pop kept most Vegoosers with ol' familiar STS9.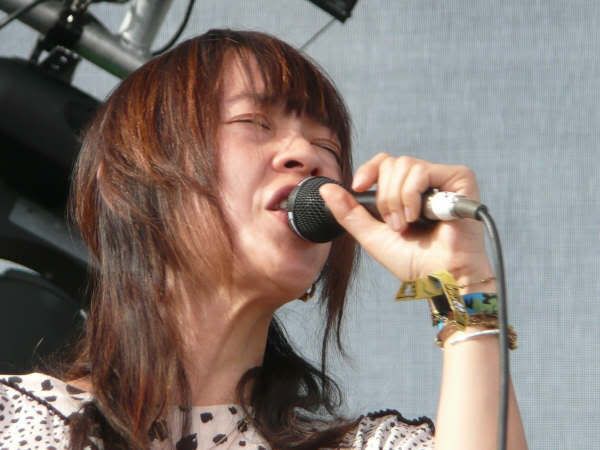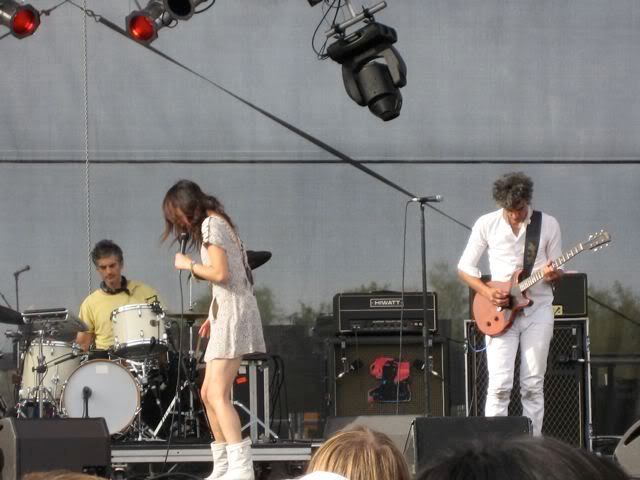 Photo by Teddy
STS9: One of the morning's best moments, as Sound Tribe delivered what they do best: dabbling hardcore in hip-hip, electronica and beats. This was about a close as it got to the word jamband, as two worlds collided in the field in front.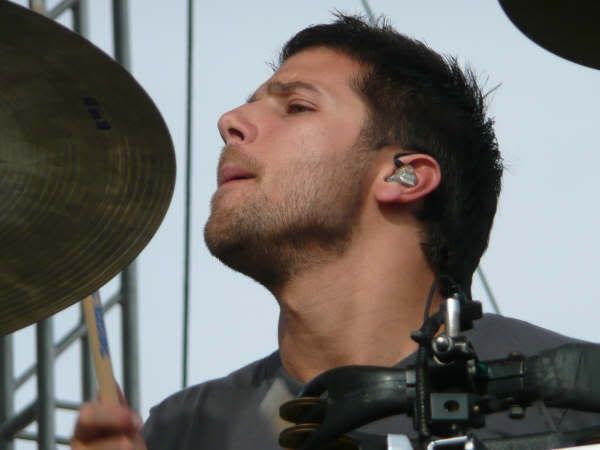 Ferris Wheel — save Ferris:
Mastodon: Officially the heaviest band to ever play a Superfly production, this is pretty much death metal. It might not be everybody's midday rush, but it served as one of those few bands most would not see unless they were at a festival. So, now you can support Mastodon next time they stroll through Joliet, Illinois.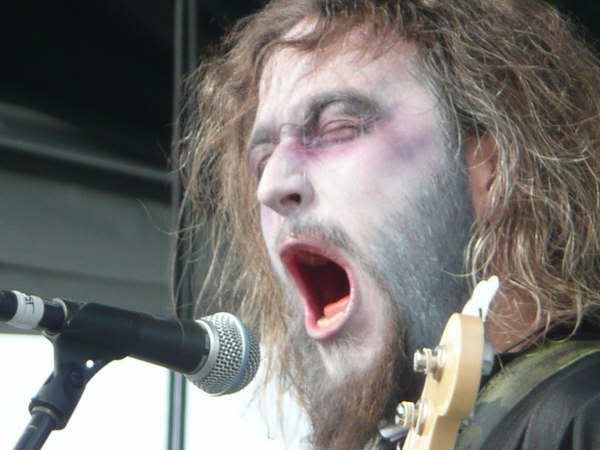 MIA: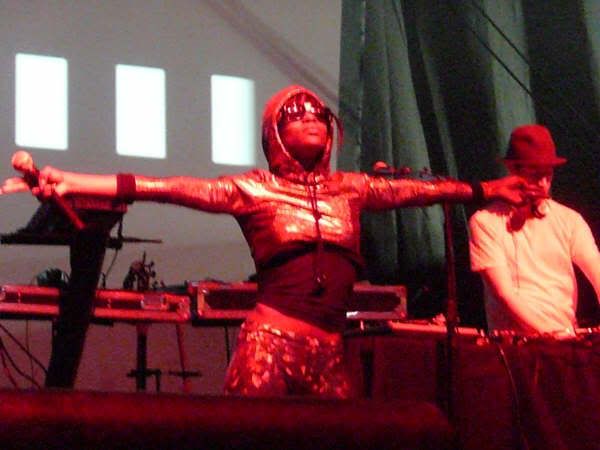 Atmosphere: Nothing outstanding, nothing sucked — just a good live hip-hip act, as Slug delivered the goods indie rock style. Atmosphere appeared to win over many new fans in this key time-slot that had little scheduling interference on the other two stages.
Public Enemy: Public Enemy is all New York, and I'm not talking about Flavor Flav's ex chick. The East Cost rap legends had the 98 percent white crowd saluting their power to their brows, and singing in unison, as Flav announced, "Let me hear you say fuck George Bush." And sure enough the crowd responded.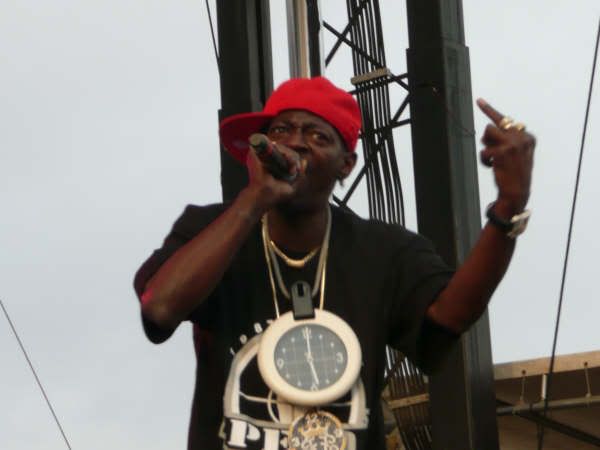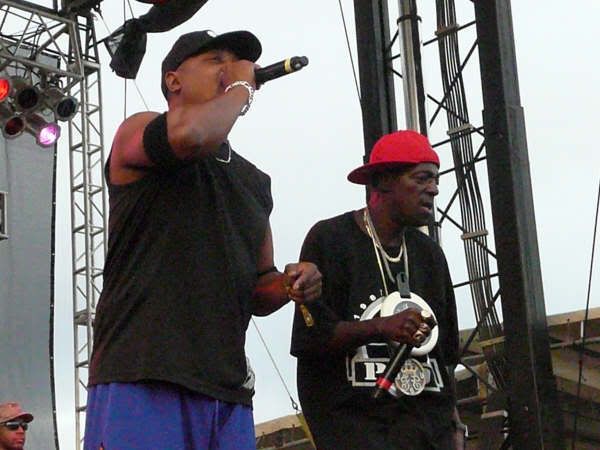 Last two photos by Teddy
Cypress Hill: Is there a theme developing here? Hip hop, rap and hip-hop. But this anthem made it 1993 again as our favorite stoner rappers tore through old family favorites: Hits from the Bong,"Insane in the Membrane, and I Want to Get High. All that was missing from this set a black-light.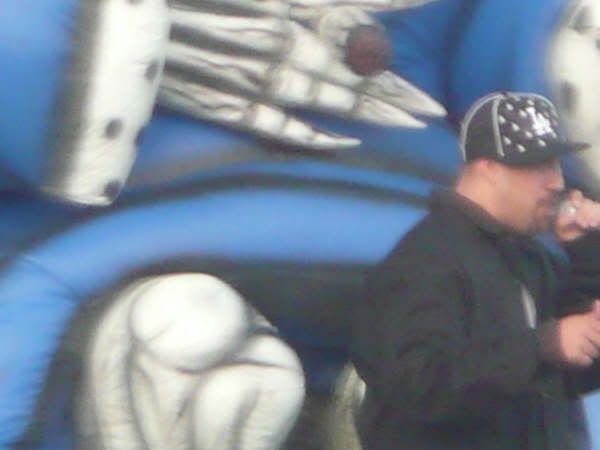 The Shins: Good thing The Shins were on the list — where were all the skinny guys supposed to hang? The indie poppers came out dressed as a chess set, bringing the same show you might have seen on their spring tour. Come on, did you really expect these guys to jam?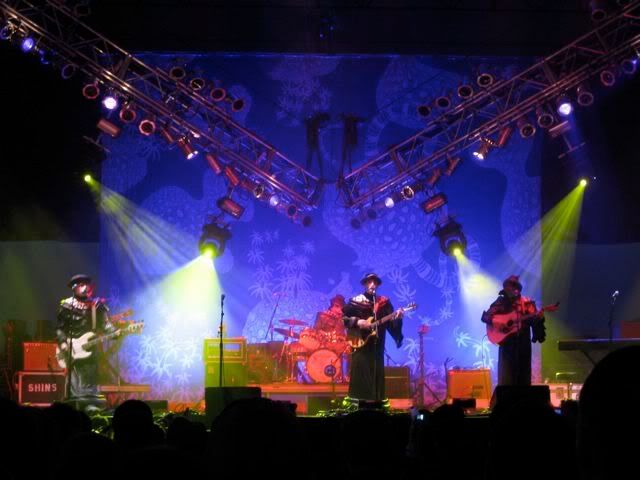 Photo by Teddy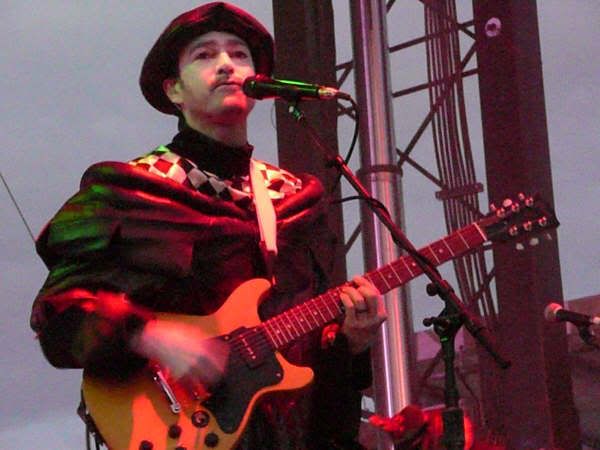 Iggy and The Stooges: The highlight of the day, as Iggy Pop made you think "60 year olds shouldn't be behaving this way." During the first song, the old man got up on the speakers and was simulating intercourse. I'd like to see Phil Lesh do that.
Performing Fun House in its entirety, Iggy and the Stooges began a school of rock for the crowd; too bad Coldplay wasn't in attendance for a lesson. Pop has that effect of making every one else trying to play rock and roll seem like posers. As he sang, "I feel alright," you know he was feeling it.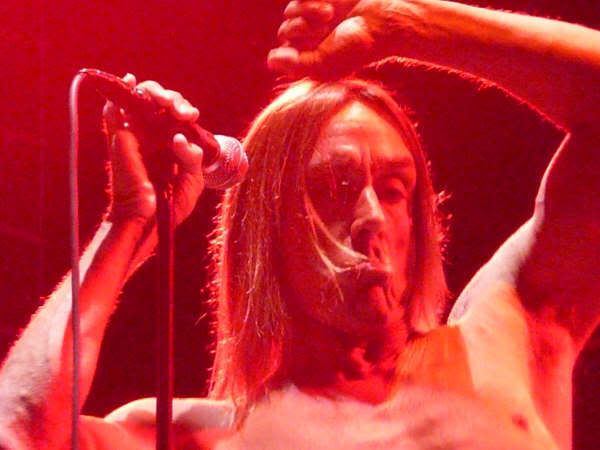 Pop jumped, skipped, hop-skotched and rolled his scaled ripped torso over the stage and letting his pants drop halfway down his ass. Other highlights included I Wanna Be Your Dog and 1969 and inviting the crowd on the stage to rock out. This set proved that Iggy and the Stooges is one of the bands you have to see once in your life – or twice.
Daft Punk: These guys have it good. You dress up as robots and throw down some sick beats for an hour and 45 minutes and the crowd eats it up either way, mainly because this stage presentation is fucking cool.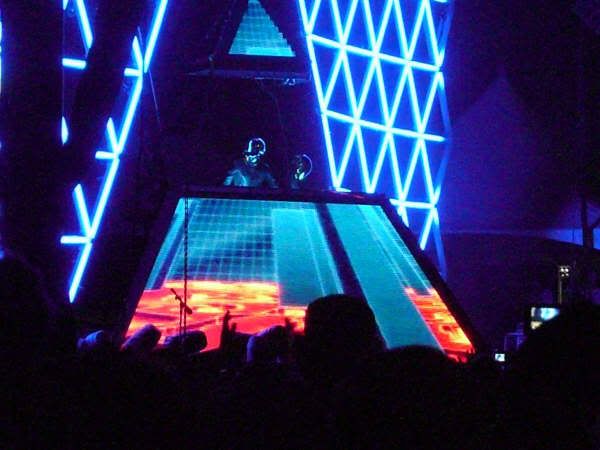 Photo by Teddy
A big pyramid with flashing colored lights and a killer light show. The robots brought new meaning to festival headliner as they brought their French-flavored dance factory to the stage. We also learned that robots have feelings too; they were seen rocking out themselves during the show, making you wonder, what's really beneath the suits?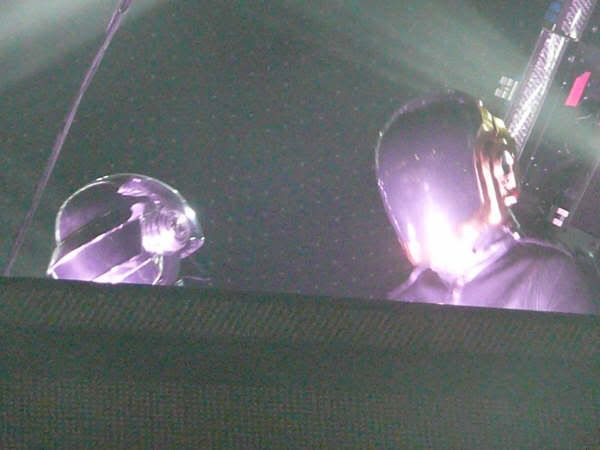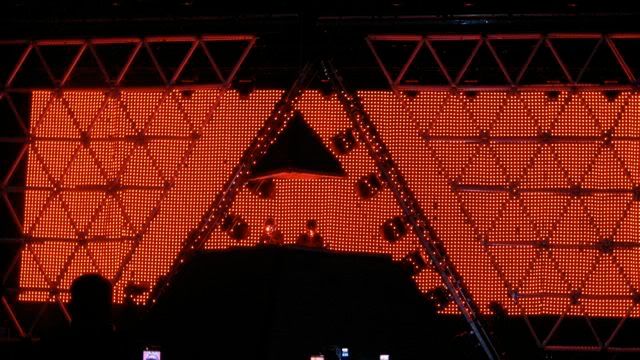 Photo by Teddy
We'll have plenty more wires from Vegoosians later in the week…