For the 22nd year in a row, the Warren Haynes Christmas Jam returned to the guitarist's hometown of Asheville, NC last night with this year's event taking place at the Asheville Civic Center. Yesterday's event saw the debut of the Warren Haynes Band and sets from Missing Cats featuring JoJo Hermann and Sherman Ewing, prog-jammers Umphrey's McGee, classic rockers the Steve Miller Band, Widespread Panic frontman John Bell, the Gregg Allman Band and a late-night thrown down from the Dirty Dozen Brass Band.
[All photos by Rob Chapman]
Haynes offered tracks from his upcoming soul album backed by Ron Johnson on bass, Ivan Neville on keys and vocals, Ron Holloway on sax, Terrance Higgins on drums and Ruthie Foster on vocals. Bassist George Porter Jr., keyboardist Ian McLagan and drummer Raymond Weber were featured on the album according to the Relix article announcing the band but did not perform with Warren last night. Warren's set included a cover of Sneakin' Sally, which you can check out right here…
Warren Haynes Band – Sneakin' Sally
[via Jambands.com]
There were plenty of guest spots throughout the evening including John Bell adding vocals to Umphrey's version of Ain't No Sunshine, Andy Farag and the Dirty Dozen Brass Band Horns sitting in at points with the Warren Haynes Band, Haynes returning the favor by joining the Dirty Dozen Brass Band and the Steve Miller Band. Also, South American harpist Carlos Reyes sat in with the Steve Miller Band, Ron Holloway and the DDBB Horns added brass to Gregg Allman's Just Another Rider, while John Bell joined the horn section for Allman's take on Guilded Splinters before Steve Miller sat in on Lost Highway.
READ ON for the complete Christmas Jam setlist, a slew of videos from nearly all of the acts and more photos from last night's show…
Last night's marathon show concluded with a set from the Dirty Dozen Brass Band that contained plenty of guests throughout. Warren Haynes came out for Papa Was a Rolling Stone and stayed out for covers of That's What Love Will Make You Do with Ron Johnson and Spanish Moon with Johnson, Ivan Neville and Artimus Pyle. John Bell added vocals to Superstitious, which also featured Ron Holloway on sax. Haynes returned for the show-closing Use Me that also saw Bell and Holloway stay out.
All post-production proceeds from Christmas Jam will go to Habitat to Humanity. So far, 16 houses have been built will money raised by previous Xmas Jams.
Here's the complete Christmas Jam 2010 setlist…
MISSING CATS
http://www.youtube.com/view_play_list?p=6AE81E362969DF6A
Two Video Playlist
Smiling Assassin
The Slaughter
Step On Over Me
Highwire
Over Lubbuck
UMPHREYS MCGEE
http://www.youtube.com/view_play_list?p=E948347ADB7CB866
Five Video Playlist inc. Ain't No Sunshine w/ JB
Conduit
1348
Ain't No Sunshine w/ John Bell
Miss Tinkles Overture
All In Time
WARREN HAYNES BAND (Warren Haynes, Ivan Neville, Ron Johnson, Terrance Higgins, Ron Holloway & Ruthie Foster)
http://www.youtube.com/view_play_list?p=7E2AE2F1A740E216
Six Video Playlist inc. Man In Motion
Man In Motion w/ Andy Farag on Percussion & The Dirty Dozen Brass Band Horns
Rivers Gonna Rise w/ Andy Farag on Percussion & The Dirty Dozen Brass Band Horns
Everyday Will Be Like A Holiday
I've Been Loving You Too Long w/ The Dirty Dozen Brass Band Horns
Sick Of My Shadow w/ Andy Farag on Percussion & The Dirty Dozen Brass Band Horns
STEVE MILLER BAND
http://www.youtube.com/view_play_list?p=205DA78490AE75E3
16 Video Playlist inc. Nature Boy w/ Carlos Reyes and Fly Like An Eagle w/ Haynes & Reyes
Jet Airliner
Take The Money
Mercury Blues
Further Up On The Road w/ Warren Haynes
Just Got Back From Texas
Ooo Poo Pah Do w/ Carlos Reyes on Harp
Shubada w/ Carlos Reyes on Harp
Nature Boy w/ Carlos Reyes on Harp
Wild Mountain Honey w/ Carlos Reyes on Harp
Dance Dance Dance w/ Carlos Reyes on Harp
The Stake
Abracadabra
Livin In The USA
Fly Like An Eagle w/ Warren Haynes & w/ Carlos Reyes on Harp
JOHN BELL
http://www.youtube.com/view_play_list?p=33957AFDB146F9A9
Four Video Playlist
Dobro Christmas Medley
Papa's Home
May Your Glass Be Filled
GREGG ALLMAN BAND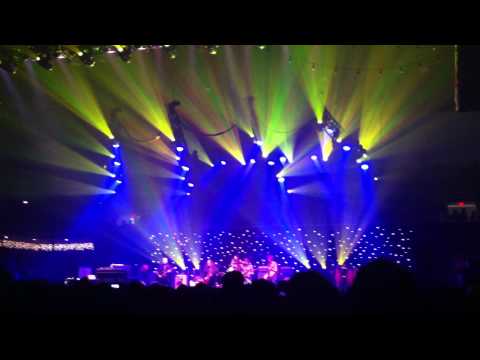 Melissa w/ Warren Haynes
Midnight Rider
Just Another Rider> w/ Dirty Dozen Band Horns & Ron Holloway
Dreams w/ Ron Holloway
Just Like A Woman w/ John Bell
Walk on Guilded Splinters w/ Dirty Dozen Band Horns & John Bell
Melissa w/ Warren Haynes
Lost Highway w/ Steve Miller
DIRTY DOZEN BRASS BAND
http://www.youtube.com/view_play_list?p=A63DF925AF37C233
Three Video Playlist inc. Spanish Moon w/ Warren Haynes, Ron Johnson, Ivan Neville & Artimus Pyle, Superstitious w/ John Bell, Ron Holloway and Use Me w/ Warren Haynes, John Bell & Ron Holloway
Ain't Nothing By A Part >
Papa Was A Rolling Stone w/ Warren Haynes
Thats What Love Will Make You Do w/ Ron Johnson & Warren Haynes
Spanish Moon w/ Warren Haynes, Ron Johnson, Ivan Neville & Artimus Pyle
Superstitious w/ John Bell, Ron Holloway
Use Me w/ Warren Haynes, John Bell & Ron Holloway
[Setlists via XmasJam.com]