Written by
Slade Sohmer
on 01.03.2008 |
!!!
,
Andrew Bird
,
Hidden Track
,
Levon
,
My Morning Jacket
,
Rod y Gab
,
Sharon Jones
,
Stevie Wonder
,
Tea Leaf Green
,
Ween
,
Wilco
Like Deacon Jones' sacks and Bill Russell's blocks, I didn't keep my live show-going totals as an official statistic this year for the first time since the early aughts. But, conservatively, I saw probably no less than 106 and no more than 147 bands in 2007, many of which made my smile both downstairs and up, and only a few of which made me want to go home and cut myself.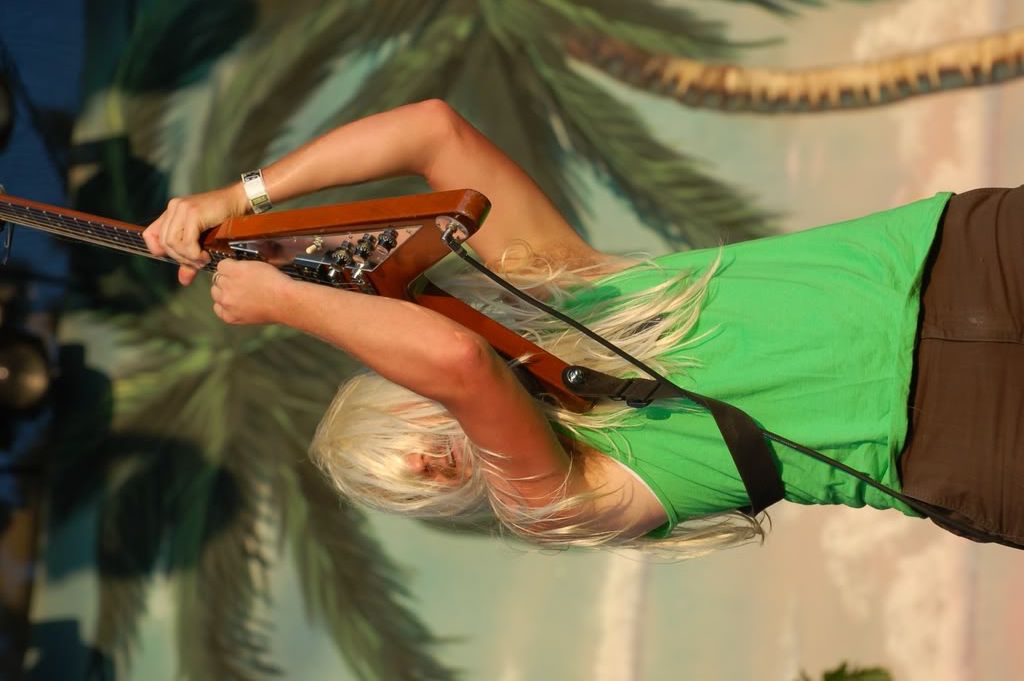 We've already offered up our comprehensive Year in Review, and yesterday we posted our 10 Favorite Albums of 2007. So as we continue our late look-back at the Year of Our Lord Two-Thousand Seven, you'll find my 10 favorite live performances of the year after the jump. We start out with a hint of old-time nostalgia — the triumphant returns of Stevie and Levon — but I'm pretty damn thrilled by how many bands on this list I saw for the first time just last year. And only one prototypical jamband? Fuck, man, what a hipster doofus I've become.
But whatever your pleasure, here's to another wonderful year of music, one that'll consistently bring out the uncontrollable smile in you, one that'll make you mumble to yourself while the lights blind you and the smoke gets in your eyes…
1. Stevie Wonder — Madison Square Garden — 11/17/07
Take away the awe-inspiring Tony Bennett sit-in on For Once In My Life. Strip out Prince's cool-as-fuck raunchy rhythm guitar cameo during Superstition. Stevie's return to Madison Square Garden as a headliner for the first time in 11 years needed no celebrity frills — along with an eight-piece, three-singer band, Wonder played a monster two-and-a-half hour set filled with every possible hit.

The show was a bit more mellow, somber and emotional than I'd have preferred, but one thing is certain: That motherfucker can still play and sing as well as any time in his musical history. Close your eyes during Golden Lady or Too High and you'd think it's 1974 and he's touring behind Innervisions. His voice is still as powerful as ever, his personality as sharp as ever, his music downright timeless.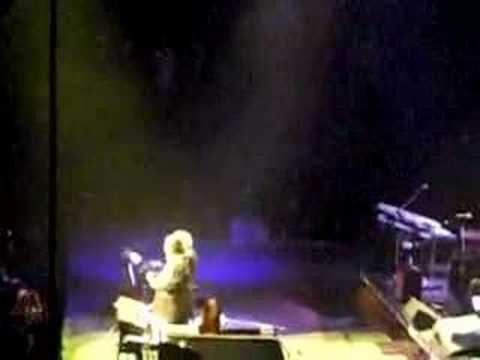 2. Levon Helm Band — Beacon Theatre — 3/17/07
Whatever everyone paid for tickets, we all received far more than we ever bargained. In addition to his supremely talented backing big-band, Levon trotted out an all-star lineup of sit-in performers like Dr. John, Allen Toussaint, Little Sammy Davis, Warren Haynes, and eventually, an unplanned cameo during a second encore from his former Bandmate Garth Hudson. Garth?! Are you fucking kidding me? I paid $100 for that ticket, and I feel like I got off insanely light.
3. Rodrigo y Gabriela — Webster Hall — 4/16/07
It's tough to describe an evening with this band, just as it's incredibly difficult to describe their sound without butchering it. I'm not sure if the term "Mariachi Metal" has ever been used at all, or if it's ever been applied to Rodrigo Y Gabriela, but that's the best descriptor I can imagine for this music. It's as if a roaming band of mariachis met up with a nomadic pack of Metallica die-hards on the road somewhere, and nine months later, two stars were born. One-part satanic rock, one-part angelic classical; sheer fuck-your-face acoustic awesomeness in totality.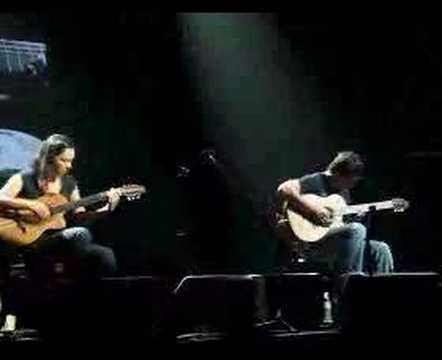 4. Andrew Bird — Beacon Theatre — 11/30/07
Bird's music kind of surprises you in the live setting. It's sit-down music for sure, music you want to relax to and absorb, to close your eyes and probe the different strata with your mind's ear. But it does swing and groove a bit more than you expect. It's not a delicate bauble, more of an intense wave of sound — all that classical violin and whistling gets stirred in the pot with waves of sound and guitar and bass and doesn't quite rock out, per se, but sinks deep and penetrates. As much as a trio could be considered an orchestra, the music is orchestral, with a penchant for Pink-Floyd-esque interludes. I think a perfect double bill would be Andrew Bird opening for My Morning Jacket — that would stroke just about every musically-inclined neuron in my body. –Neddy for HT
5. Arcade Fire, LCD Soundsystem & Co. — Randall's Island — 10/17/07
I think what most attracts me to Murphy's band is how much many of the tunes remind me of the danceable elements of the Talking Heads. Infinite comparisons to David Byrne & Co. are thrown around these days, and most of them are garbage. But if the Talking Heads began to grow as musicians during the ecstasy of the late '90s instead of the nerds-on-cokeness of late '70s, they very well might have turned into what LCD Soundsystem is today. They're not the same band, nor do they do the same things, but go see a show and tell me there's another group out there that turns you on your head in the manner of the Talking Heads.
6. My Morning Jacket > Wilco — Austin City Limits (Austin, TX) — 9/17/07
MMJ brings it every time. They're a constant, plain and simple. And they were one of the few bands at this festival that remembered it's actually acceptable to put on a show. The stage set-up included a full beach scene, complete with beachcombers roaming the stage for gold and girls holding up pineapples. The band came out in various beach garb, though I think we're all thankful Jim James eschewed the bikini that came with his blonde wig. Oh, that reminds me — if you were the dude in the "Official Bikini Inspector" T-shirt today, please fall down a flight of steps.

[Wilco] put off the new Sky Blue Sky tracks for the most part, only playing Hate It Here ("not dedicated to Austin") and Walken from the new album after we showed up [ed. note: they played You Are My Face and Impossible Germany before we pulled up]. And the older songs, especially the ones off Yankee Hotel Foxtrot like I'm the Man Who Loves You, sound amazing live with Nels Cline on lead guitar. Cline may just be the best late addition to a band I've ever seen — the guy exudes professionalism and dexterity that compliment Wilco's sound on a level I'd never expect. Just a perfect combination. I've always heard Wilco rocks harder than they look, and boy did they ever. They say you'll never forget your first time, and shit, that seems more true today.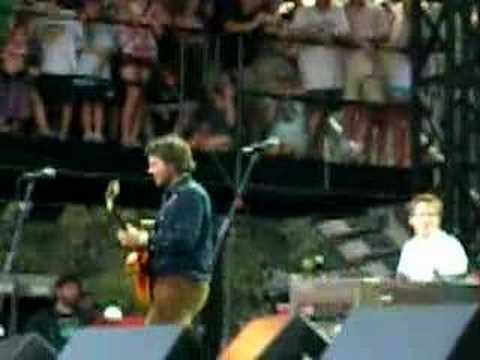 7. Ween — School of Rock Festival (Asbury Park, NJ) — 6/26/07
The School of Rock gave way to Ween, which played a two-hour set to a more familiar crowd of cruds after the previous weekend's Bonnaroo audience. From the opening notes of She Wanted Us To Leave, Ween had the crowd whipped into an all-out frenzy. Men were hooting and hollering, women were yelling "Touch my tooter" — it was mayhem on the street in front of the stage. Ween came to rock, and they left a trail of sore eardrums after their 30-song masterpiece.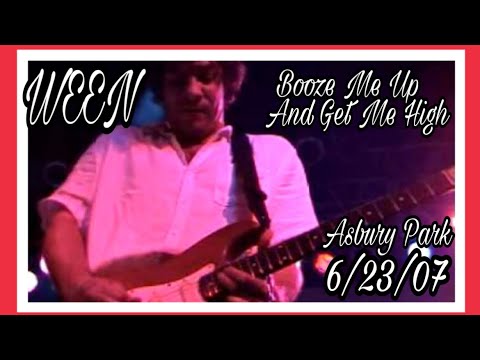 8. !!! and Holy Fuck — Bowery Ballroom — 5/16/07
The lady sprung into the air, stage-diving right on top of the guy in front of Neddy, taking him out in the process. And when I say taking him out, I mean one of those full off-the-top-rope flying body presses that your old high-flying WWF favorites used to employ on a regular basis. Neddy bore the small brunt of deflection, as well. Both the crowd member and the lady surprisingly shot up, and a mosh pit ensued. Pure fucking energy.
9. Tea Leaf Green — Blender Theatre at Gramercy — 9/8/07
Here's a riddle: Why did Tea Leaf Green's three-night run at the Blender Theatre at Gramercy leave me hungry for some Kellogg's Frosted Mini-Wheats?

It's because the adult in me wonders why they opted for three nights at a smaller venue, selling the same amount of tickets and generating in three nights what they could have with one night at Irving Plaza, where they've played twice. But the kid in me loves the fact that they marched into town, set up camp and blew the fuckin' Blender doors off with three full nights, seven fantastic sets over 10 hours, 62 electric originals, 13 acoustic tunes and one sick cover of Don't Do It.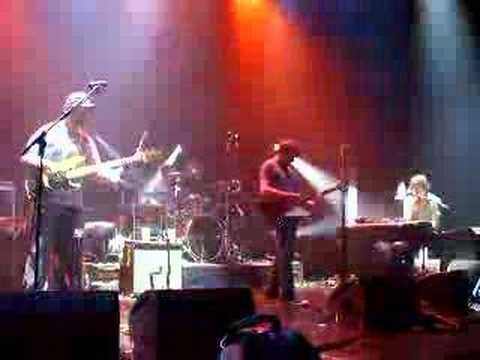 10. Sharon Jones & the Dap-Kings — Langerado Music Festival (Fla) — 3/9/07
I can't say enough about Sharon Jones and the Dap-Kings. This set blew us away, and it blew just about everyone in that tent away. This chick is a fucking national treasure; she needs to be talked about more. People call her the Female James Brown, and I'd agree, but she's also the Female Ron Burgundy — she's stream of consciousness, cocksure and aware of her innate ability to kick some arse. We love Ron Burgundy, and we love Sharon Jones.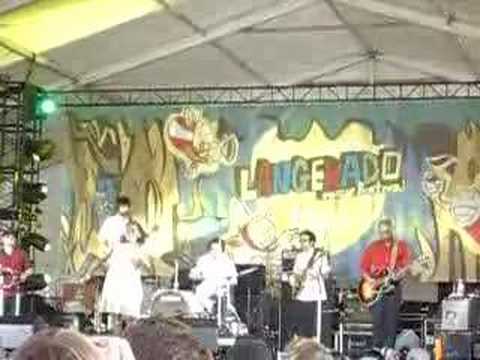 So what say you, faithful music fans? What were some of your 2007 faves?